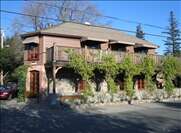 The French Laundry is a rock and timber structure with roots as a 1900s saloon.
The building later served as a residence, and during the 1920s operated as a French steam laundry.
In 1978, town mayor Don Schmitt and his wife Sally renovated it into a restaurant, of which Thomas Keller opened his—and the current—iteration in 1994.
Through The French Laundry's daily changing menu, the restaurant commits itself to creating classic French cuisine with the finest quality ingredients, with a similarly intense focus on impeccable guest service.
With no set wine pairing, the sommelier team is prepared to create a custom program based on guests' preferences.
The 2,300 selections and 500 remarkable half bottles at their reach make this a truly unique and personal accompaniment.