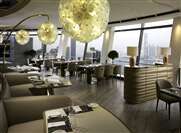 The Grand Buffet is located in the only 360-degree revolving restaurant in Hong Kong, with a magnificent view of the city.
Offering an incredible variety of international delicacies, guests can choose their favorites among live shrimp,Tempura, Teppanyaki and Cantonese barbecue.
The Grand Buffet is famous and well-known for its 'a-la-minute buffet' concept, where the food is cooked in front of diners in small portions to mimic a restaurant.
Wine lovers will certainly be impressed by the comprehensive offering alongside popular spirits and beer.