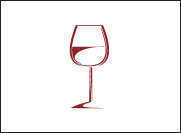 It's often said that you can judge a restaurant by the care and attention it puts into its house wines. In which case, top chef Tom Kerridge's Marlow gastropub The Hand and Flowers is miles ahead of the competition.
As the judges at the World's Best Wine Lists 2015 said, the selection of 20 or so house wines is "great," and includes such gems as Anima Negra An/2 Mallorca red blend, André Dezat Sancerre Rosé, and Hatzidakis Santorini Assyrtiko—there are even a couple of house "orange" wines, from Georgia's Pheasant's Tears and La Stoppa in Emilia, Italy.
But in case you think prices as high as £66 rather stretch the concept of "house" wine to breaking point, the rest of the list is no less exciting, diverse, and, with plenty of options at all prices. "It's an excellent list," said the judges. "They have it all, and they organize it beautifully."
No wonder the Hand and Flowers can now add three-stars from the World's Best Wine Lists to the two stars its kitchen has earned from Michelin for its "sophisticated yet familiar" food.