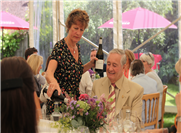 Wiltshire fine-dining pub The Harrow at Little Bedwyn's chef-patron Roger Jones is a well-known figure in the British wine trade, contributing articles to a variety of wine trade and consumer magazines, and judging at a number of wine competitions. And his passion (as well as that of his wife, Sue) is clear to see in one of the UK's best wine lists.
Described by the judges at the World's Best Wine Lists 2015 as "enthusiastic and original," The Harrow list begins with a short but varied by-the-glass program that includes a Greek Viognier from Domaine Gerovasilliou and a new-wave South African red blend from AA Badenhorst.
While not stinting on classic Europe, the full-bottle list is particularly strong in the Southern Hemisphere, with South Africa a newly discovered specialism alongside the section featuring the traditional Harrow Inn strengths of Australia and New Zealand where a number of older vintages and verticals from top producers such as Felton Road and Penfolds can be found. Other highlights include a good selection of English sparkling wines, and many older vintages from such distinguished producers as R Lopez de Heredia in Rioja and Trimbach (Clos Ste Hune) in Alsace.