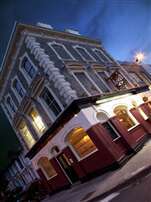 With Ledbury chef Brett Graham involved (he's a director, along with partner Mike Robinson), Fulham fine-dining pub The Harwood Arms was always going to have wine as an important part of its mission. And the only Michelin-starred pub in London certainly impressed the judges at the World's Best Wine Lists 2015.
What impressed them wasn't simply the list's range and depth, as striking as that is. It's the value, too. "It's a brilliant selection," said one of those judges, "and I love that for a Michelin star in London they offer quite a decent selection under £50 a bottle."
That's clear from the very first page of the list, which, at the time of judging, was devoted to a selection of "Spring Specials" including fine English sparkling (Furleigh Estate Classic Cuvee, Dorset, England; £48 a bottle), modern white Rioja (Remírez de Ganuza Erre Punta Blanc 2011; £45), and SW6 Cabernet Sauvignon, a wine made at local wine merchant Roberson's urban London Cru winery from grapes grown in the Languedoc by Jeff Coutelou (£40).
The rest of the list is no less arresting and well priced, providing a perfect fit for the modern English food served up by head chef Alex Harper.