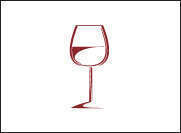 Star chef Heston Blumenthal bought this classic old British pub across the road from his Fat Duck restaurant in 2004.
At the Hinds Head, Blumenthal takes a slightly less avant-garde approach to food and drink than at the restaurant where he made his name, but the Michelin-starred menu is still exceptional. In a nod to the pub's 600-year history, there are "historic" British dishes such as hash of snails and oxtail and kidney pudding, as well as more conventional meals such as ribeye and filet steaks.
The wine list is long and engagingly international, with prices fair throughout. The judges at the World's Best Wine Lists 2015 enjoyed the mix of thoroughbred classics and rising stars, which range from the superb value of Francesco Candido's sumptuous Salice Salentino from Puglia (£29) right up to Château Latour 1941 (a mere £4,850). With a well-chosen dozen wines available by the glass, and plenty of fortified and dessert wine choices, this is a very fine pub wine list.