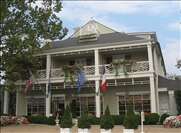 When it opened three decades ago, The Inn at Little Washington in rural Virginia was at the forefront of farm-to-table cooking. Indeed, as the Inn's website says, "Our alliance with local farmers and artisanal producers was an adaptation born of necessity more than 30 years ago when nothing but milk was delivered here." Today those suppliers are given prominence, listed by name on chef Patrick O'Connell's creative menu, featuring dishes such as cauliflower "steak" with yellow Indian curry, green grapes, and candied walnuts, or a savory panna cotta with a caviar surprise.
It should come as no surprise, then, that the restaurant has been equally committed to the ever-improving local wine scene. Virginian wines feature prominently on the wine list, with a selection of more than 30 bins, from Chrysalis Vineyards 2011 Viognier to Chester Gap Cellars Cabernet Franc 2009.
As good as this local selection is, however, it's but a small part of a zeitgeisty, global list that, from its stunning range of grower Champagnes onwards, is full of excitement. The classics (European and domestic) are well-represented and chosen with flair. But what really caught our judges' imagination was the depth of rising-star producers from all over the world, from the new-wave Portuguese of Conceito to the natural-minded wines of Thierry Puzelat or Domaine des Roches Neuves in the Loire, and a superb selection of modern Spanish wine that goes far beyond the usual Rioja.