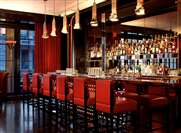 Located off of the lobby of The Chatwal Hotel, this luxe but comfortable restaurant serves all meals of the day at its spacious red leather banquettes.
Featuring a fully restored 18t-century French limestone fireplace, The Lambs Club restaurant has an elegant clubhouse feeling.
Just half a block from Times Square, the restaurant features both pre and post theater menus and Live Music every Saturday and Sunday during brunch.
The Lambs Club wine program is a world-class selection of fine wines that's fun to read and choose from.
Alongside reliable favorites you'll find benchmark classics, some new esoteric discoveries from famous producers and some of the best wines from all the world's wine regions.
The team is on hand to assist in finding the right wine according to your flavor profile, wine style or price range.