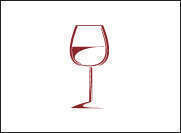 Well known to British wine lovers as the host of many a high-quality wine dinner, London's two Michelin-starred The Ledbury has always been a restaurant that takes wine seriously.
In the words of the judges at the World's Best Wine Lists 2015, the long Ledbury list is "hugely impressive. There's a lot to discover here, as well as some well-known stars."
As ever in the world's best vinous restaurants, the by-the-glass program offers a microcosm of the list's enlightened approach, featuring both intriguing affordable finds (such as Johanneshof Reinsch St-Laurent from Thermenregion, Austria and Emilio Valerio Laderas de Montejurra, Navarra, Spain) and big-name fine wines (Château Lynch-Bages Pauillac 1985; Pol Roger Cuvée Sir Winston Churchill 2000).
Elsewhere expect to find extensive collections of top Bordeaux, Burgundy, Rhône and grower and Grande Marque Champagne, intelligent selections from Italy, Spain, Portugal, Germany and Austria, and a choice of Australia, New Zealand, South Africa that takes each country seriously.
When combined with Australian executive chef Brett Graham's elegant, modern menu, it becomes clear why The Ledbury has become such a favorite among London diners and wine drinkers.