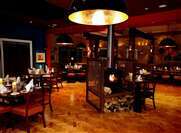 Family run since 1979, the Lord Bagenal Inn is a four-star hotel offering award-winning food and wine in a relaxed setting.
With its enviable location on the banks of the river Barrow in the heritage village of Leighlinbridge, county Carlow, it is an ideal base for exploring Ireland's ancient east.
The hotel restaurant offers a broad selection of locally produced dishes which are complemented by its extensive handpicked international wine list.