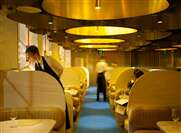 Melbourne's Press Club Room is the small but perfectly formed home of one Australia's most celebrated chefs—and Masterchef judge—George Calombaris, who takes inspiration from his Greek and Cypriot heritage to add a distinctive, fresh edge to his playful, experimental cooking.
On the dinner menu, that means fresh zesty flavors and intriguing combinations such as piggy on the spit, apples cooked over coals, and celery Greek salad, or beetroots in all their glory, crème fraiche, and marigold sorbet.
The Greek-Cypriot inspiration also informs the wine list, with a superb selection of wines from what Calombaris calls "The Hellenic Republic" arranged by region, and running from Gerovassiliou Malagousia from Epanomi to Hatzidakis Mavrotragano from Santorini.
These are joined by imaginative choices from all over the world, with Burgundy clearly a passion, and Bordeaux presented in a typically novel way, where a run of top producers is each represented by a pair of vintages, such as Léoville-Las-Cases 1995 and 1983, or Figeac 1990 and 1982.