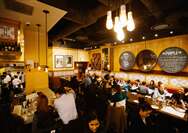 This list has been thoughtfully composed with the guest in mind. The Purple Pig's passion for Mediterranean cuisine in all of its forms is evident. The selections have been chosen in collaboration with the Chef, Jimmy Bannos Jr., to enhance his dishes and further improve the dining experience.
The cellar offers nearly 800 selections of wine, along with vast offerings of beer and spirits. The majority of the wines come from Europe, with a small contingent hailing from North America. The staff is extremely knowledgeable, passionate about wine, beer, and spirits, and dedicated to making each guest's visit truly memorable.
The Purple Pig has made a dazzling debut to the awards, taking the Best By-the-Glass Wine List Without Coravin in the World 2019. Our judges praised the list's highlighting of women producers, with wine consultant and sommelier Luciana Girotto calling it "outstanding" and demonstrative of a "deep knowledge"
.