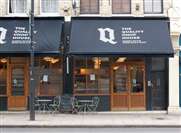 Best Short Wine List in Europe
If, as the World's Best Wine Lists senior judge Ch'ng Poh Tiong put it, the test of "a good wine list is one where you can make a choice in five minutes—you don't want to have to read ," then The Quality Chop House passes with flying colors. Described by restaurant critic Marina O'Loughlin as a "novella," it's a masterpiece of brevity, offering a world of vinous pleasure in its 125 selections.
The work of a pair of very well connected young restaurateurs (Will Lander is the son of the UK's most prominent wine writer, Jancis Robinson MW and restaurateur and food critic, Nicholas Lander; Josie Stead, the ex-manager of Dinner by Heston Blumenthal, is the niece of London fine wine merchant, Stephen Browett of Farr Vintners), the ever-changing list is crammed with smart choices and rare vintages at very fair prices.
Engagingly presented with informative, unpretentious notes for each wine, the collection, as Lander and Stead say on the list, is "a broad church." At the time of judging, highlights included a trio of "old but fresh" classic French reds (1977 Clos de l'Oratoire des Papes Châteauneuf-du-Pape; 1966 Château Giscours Margaux; and 1979 Charles Joguet Chinon Cuvée du Clos de la Dioterie); a set of mature Turley Wine Cellars Zinfandels; and a pair of venerable sweet Roussillon: 1936 Château Sisqueille Rivesaltes and 1939 Domaine Pla Del Fount Maury.
But every bin on Europe's Best Short Wine List has something to say, whether it's an unusually mature (2000) vintage of London restaurant favorite Shaw & Smith M3 Adelaide Hills Chardonnay, or the latest vintage (2013) of Gaintza's ultra-traditional Txakoli.