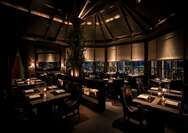 This is a modern American restaurant designed to speak to the Napa Valley.
It is inspired by Meadowood's relationships with local artisans, farmers, foragers and other members of this dynamic place and their stories.
The wine team's mission is to present the best wines California has produced over many decades, alongside the most exciting wines to be found today.
They're always looking to showcase the bounty of California's vineyards in context with their counterparts and peers from around the world of wine.
Their approach allows for a deeper, more impactful and exciting view of today's multifaceted wine scene.
The Restaurant at Meadowood's wine list's sophisticated aesthetic saw it take Best Designed Wine List in the World, but its accolades didn't stop there.
It was also crowned Best Hotel Wine List in North America and came just shy of being the overall winner, being named runner-up in the global stakes.
Wine consultant, sommelier and judge Luciana Girotto summed this up, commenting "big selection, big joy".