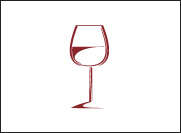 First opened in 1977, legendary Brooklyn waterfront restaurant, The River Café, continues to impress. A pioneer of seasonality and the primacy of fresh, local ingredients, the menu's modern American cuisine takes in dishes such as Hudson Valley foie gras three ways and black sea bass sautéed with lobster brown butter.
Wine has always played an important role in The River Café experience, and, according to the judges at the World's Best Wine Lists awards, it remains a cut above its rivals. "It's a quite extraordinary array of wines, with huge choice and loads of impressive iconic collections," the judges said. "Very smart presentation too. Excellent."
Wine director Joseph Delissio is a big fan of Madeira, and that shows in a wide-ranging selection of the great Portuguese fortified. Few places offer a more impressive roll call of big name European producers, among them Château Reyas, Château Pétrus, Domaine Ramonet, Neillon, Vega Sicilia, and Domaine de la Romanée-Conti. And then there is the collection of Californian wines: as the River Café website points out, many of the established greats of West Coast wine made their New York debuts at The River Café, but today's list also features some of the state's most interesting rising stars.