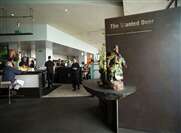 Best Short Wine List in North America
Just as a well-written short-story can be more compelling than a poorly written novel, so a wine list with a limited number of selections may often be more fun to drink from than a leather-bound bibulous bible.
The winner of the Best Short Wine List in North America, San Francisco's modern Vietnamese restaurant The Slanted Door, is delicious proof of the idea that small can sometimes be more beautiful. You may not get the elaborate collections of big-name grands crus, but what you do get is a list with personality where every bottle has earned its place, both for its quality and its ability to cope with the herbs and spices on the menu.
That translates into an exciting set of small, natural, organic, and biodynamic producers from around the world, and to wines that choose higher acidity and lower alcohol over "big" flavors. Riesling, specifically German Riesling, and Austrian Grüner Veltliner are, therefore, particularly well represented. But so are the Pinots of Burgundy, Beaujolais, Oregon, and "Pursuit of Balance" California. The rest of the list embraces an impressive number of regions in its elegant remit: from the natural Rhônes of Eric Texier to the funky Chenin fizz of Domaine Breton in Vouvray.