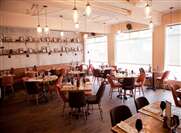 You can tell from the first few pages that The Steak House wine list is about more than the badge-drinking, box-ticking list that you might expect from a restaurant set in a casino-hotel.
The selection of sparkling wines may include a sprinkling of Grandes Marques Champagne, including Roederer Cristal and Salon. But it also features a number of very well-chosen and affordable sparklers from outside the classic French region: California's Schramsberg, Tasmania's Jansz, Augusti Torrello Mata Cava—there's even a couple of sparkling reds, Bleasdale Sparkling Shiraz from Langhorne Creek, Australia and Marenco's Brachetto d'Aqui.
But that's typical of a list that, as the judges at the World's Best Wine Lists awards point out, features "tons of choice, with some really esoteric inclusions as well as plenty of classics."
Clearly arranged by grape variety and then region, it's a democratic list that gives as much space to local domestic and quirky international choices as it does the big names of France, Italy, Spain, and further down the West Coast in California. As the judges say, "lots of love and thought has gone into" a list full of personality, charm, and interest.