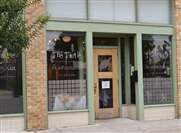 Situated in the city of Brownwood, Texas, the Turtle Restaurant is owned by the multi-faceted Mary Stanley. A true all-rounder, Stanley's skills virtually cover all aspects of the restaurant. Wine buyer, pasta chef, gelato artisan, and chocolatier, Stanley has trained with Spanish master Ramon Morato to learn the art of entremets; studied chocolate making with master chocolatier Jean-Pierre Wybauw; claimed diplomas in Artisan Pasta and Breads from Manuelina Culinary in Brescia, Italy; and has been involved in a number of gelato competitions including making the finals in the Gelato World Tour in Rimini, Italy (2014).
Equal attention is dedicated to the excellent wine list, which debuted in the awards in 2017. Claiming a two-star award in its first appearance is evident of its high caliber. Judges commented that the wine list was "clever and consumer friendly", and includes by-the-glass options that cover a variety wine regions such as Austria (both red and white wines), Chianti, Rioja, Mendoza, and Australia. The range is notable, considering there are ten by-the-glass pours for red and white wine.
The remainder of the list follows a similar pattern with primary wine regions covered including local Texan wines, such as Cabernet Sauvignon Paolo (Messina-Hof), Texas, 2010, alongside Old World wines, and South American classics.
At the Turtle they cherish delicious food and good conversation; their key ingredients to happiness. Woven into their ethos is a desire for good wines that echo the terroir to share with their guests.