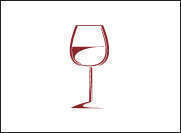 Consistently excellent, classical French cuisine has always been the hallmark of Michel Roux's The Waterside Inn, located for 40 years now by the Thames in the British foodie mecca of Bray in Berkshire.
A long-time holder of three Michelin stars, this much-loved and respected institution is also deserving of its latest accolade, a three-star rating from the World's Best Wine Lists awards 2015.
In the kitchen, now under the auspices of Michel's son, Alain, expect immaculate haut-gastronomic creations such as roasted Gressingham duck breast with cherries and Bourgeuil wine, or choux buns garnished with mushroom duxelle, braised Burgundy snails and coated with Béarnaise sauce, salad leaves, and Madeira jus.
On the wine list, find a 1,000-bin compilation that "makes no apologies" for being exclusively French—and neither should it, when it offers such a fine array of different prices, styles, regions, grape varieties, and bottle sizes, from a 50cl bottle of Alain Brumont's gorgeous sweet Pacherenc du Vic Bilh Cuvée Novembre 2008, to a glass of Taittinger's exquisite Blanc de Blancs Comtes de Champagne.