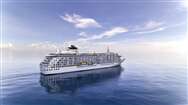 The World is the largest private residential yacht on earth, on which its residents can travel the globe without ever leaving home.
This community at sea first set sail in 2002 and has visited over 1,000 ports of call in over 120 countries.
With a continuous worldwide itinerary that enables the vessel to span the globe every two-to-three years, the ship is a complete floating city, equipped with high-end facilities and luxurious amenities that create an intimate, refined atmosphere for its resident-owners.
The strikingly beautiful and well-appointed ship promises impeccable and personalized service customized to residents' preferences in a warm and inviting ambience much like that of a private yacht, well-staffed private home or exclusive country club.
A lifestyle aboard The World allows residents to explore the planet's most breathtaking exotic and well-known destinations with like-minded adventure seekers from the comfort of their own private residence.
This exclusive community enjoys the ultimate combination of luxury travel and world-class dining, custom destination experiences, and enriching cultural events—all designed to 'bring the destination alive'.
This unique lifestyle fosters a warm and welcoming atmosphere, a sense of community, and the formation of lasting friendships.
Within the competition, The World has proven its success by winning Best Cruise Line / Ship Wine List in the World every year since 2015.