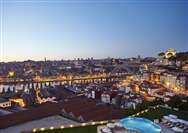 Given its surroundings among the traditional Port lodges of Vila Nova de Gaia, with each room overlooking the River Douro, it is not at all surprising that luxury hotel The Yeatman chose to devote itself to Portuguese wine when it opened in 2010.
It's a focus that has led to the creation of what is now officially the finest, and certainly among the most extensive, collections of Portuguese wine anywhere in the world, having been named Best Regional Wine List in the World this year.
The selection is the cornerstone of a fine 1,200-bin wine book, described as "a phenomenal representation of Portugal's greatness" by the World's Best Wine Lists judges.
All of the big names in Portuguese fortified and table wine are represented, as well as the many rising stars of this increasingly revered wine producing nation, from Vinho Verde to Alentejo, from the Dão to Madeira, and, of course, the Douro.
These are joined by a small but impressive selection of peers from the rest of the world, to create a World's Best Wine Lists region and world-winning list in five-star surroundings.