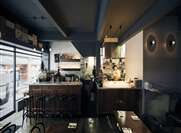 Tipo 00's unique name pays homage to the flour used in what they specialize in – pasta. Showcasing their passion for Italian food and beverage, this unassuming, compact restaurant tucked away on Little Bourke Street is fast becoming one of Melbourne's best, compared to the likes of Vue de Monde, thanks to chefs Alberto Fava and Andreas Papadakis – both of whom have previously worked at Vue de Monde and Merchant.
Its classic mid-century looks, including a white marble bar, rose gold finishing touches and cleverly painted concrete floor create an elegant yet relaxed setting.
Deemed best "for everyone who loves Italian wine" by this year's judges, it comes as no surprise that the wine list is an Italian-leaning document, with drinks including Marco Carpineti 'Moro' Greco Moro Bl from Lazio alongside Australian NV Seppeltsfield 'DP63 Grand' Muscat.