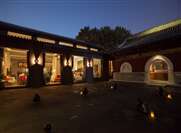 World's Best Wine Lists Jury Prize
There are, of course, pleasures to be had on a wine list that is strong on the world's famous producers. The reassurance of what amounts to a brand name, the sense that what you're drinking sits in a pantheon of acknowledged greats.
On the part of the restaurant, however, building a list like this is relatively easy—assuming, that is, you have access to the requisite funds. "Checkbook" wine buying is how World's Best Wine List senior judge Andrew Jefford describes it, a by-the-numbers box-ticking approach that leads to a certain replication of choice in restaurants all over the world.
How refreshing it is, then, to find a list where the establishment has, in the words of senior judge Ch'ng Poh Tiong, "gone out of its way to go beyond the established names." Beijing's TRB Temple Restaurant is one such venue, and was awarded a World's Best Wine Lists Jury Prize for that very reason.
To match its equally creative high-technique cuisine based on classical European and Asian influences, TRB makes a particular effort to add "relatively little-known wines and grape varieties from France itself, the rest of Europe, and the New World," to a base of classic Champagne, Bordeaux, Burgundy, and the Rhône. From Jurançon to Uruguay, and from Limoux to Central Otago, this is a superbly creative, wide-ranging list that is also distinguished by its focus on organic and biodynamic wines.