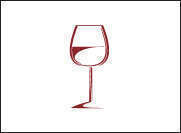 The spices and aromatic herbs of Indian cuisine are not always the easiest match for wine. Preparing a wine list for a menu such as Trishna's, which offers a refined but still full-flavored take on southwestern India's culinary traditions, therefore requires no little thought and know-how.
According to the judges at the World's Best Wine Lists 2015, however, it's a test that the wine team has been passed with flying colors.
"This is a very well-chosen list to go with the Indian cuisine," the judges said, having worked their way through a medium-sized, varied list. As such, it is particularly strong on aromatic whites, whether that's a Grasevina by Krauthaker in Kutjevo, Croatia, a Petit Manseng from Charles Hours in Jurançon South West France, a Verdejo from Jose Pariente in Rueda, Spain, or the numerous German and Austrian Rieslings.
But that's very far from all in a list that embraces many styles from many exciting producers all over the world, and at consistently and (for a Michelin-starred Central London restaurant) surprisingly fair prices.