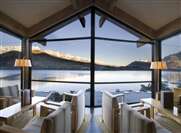 The award-winning True South Dining Room at The Rees Hotel in Queenstown epitomises sophisticated elegant dining. Take a journey to one of Queenstown's hottest restaurants on Lake Wakatipu and see why Executive Chef and rising culinary star, Ben Batterbury, has cultivated such a following. Guests are treated to a sense of surprise when they dine in the True South Dining Room – with something delicious, exciting and unexpected!
"There is no better place to sample the excellent local produce than The Rees Hotel True South Dining Room." – Valli Little, Delicious Magazine
True South's pride in our region is expressed with a menu of dishes based mainly on local produce. Where possible we source high quality ingredients from suppliers in Central Otago, buying local not only assures freshness and quality control, it reduces food miles and encourages sustainable practices. Offering mouth-watering monthly menus, with daily tweaks and seasonal changes, the menu showcases Ben's signature style that is fresh, clean on the palate and exhibits creativity, innovation and above all, amazing flavour. The calibre of Ben's skill has seen him win excellence awards from Beef 00 Lamb New Zealand and Ora King Salmon. Our wine offering has both breadth and depth, combining the fine wines and vintages of France, Italy and Australia with the famous producers of New Zealand. Each bottle tells the distinctive story of its origins – the terroir, the winemaker and the vintage. At the Rees Hotel we have developed a private cellar of one of the most comprehensive collections of fine Bordeaux wines in the Southern Hemisphere complimented by some of the great names in Burgundy. Our cellar stock also celebrates the growing international stature of the best winemakers of our homeland. It is our firm belief that there is an unserved appetite amongst discerning people for regular opportunities to savour the best wines in the world alongside the best from New Zealand – to enjoy them served in the best decanters and the best glasses designed for each wine – and to know more about the distinctive provenance of the wines they favour.