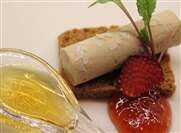 Truffles Restaurant continues their commitment to modern American cuisine.
This approach provides a fun and constantly evolving menu.
The newest addition to the business is a 30-acre farm—the primary source of their fresh produce.
Center stage of the restaurant is a custom-designed service table made of solid maple wood, with a two-inch-thick fusion granite top.
This ten-foot long table holds a full wine station at one end and a double induction burner at the other for cooking demos and carving.
Truffles' ever-expanding, daily-updated wine list has over 1,800 selections and more than 12,000 bottles, all stored in a temperature-controlled environment.
The content of the by-the-glass list, including extensive Coravin pours, changes weekly so there's always something new for the return guest.
Monday Wine Nights, dubbed 'The Wine Case of the Mondays', are unique one-hour tasting sessions featuring different producers and showcasing a maximum of five wines.
After a vote, the winning wine is featured on the wine list at cost price for the following week.
Our judges praised the list for its by-the-glass selection from almost every corner of the world, and called the list "sapiently blended and for every taste, age and pocket".