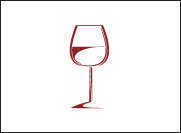 One of Italy's most admired fine-dining restaurant's, Milan's Il Ristorante Trussardi Alla Scala marries classical French and Italian traditions with cutting-edge technique to create a thoroughly modern culinary experience.
On the plate, that means signature dishes such as raw sea bream with gold, ginger, and saffron jelly, or veal nose braised with spumante, mackerel, cucumber, and black truffle.
And these are matched with a peerless 700-bin wine list that provides, at its core, a fascinating tour d'horizon of the contemporary Italian wine scene, with several worthwhile detours into the classic wines of France, and a smattering of intelligent choices from such diverse countries as Spain, Slovenia, Georgia, Israel, the USA, Chile and Australia.
It's the Italian compilation that most impressed the judges at the World's Best Wine List 2015, however, with its focus on organic and biodynamic producers, its stock of mature vintages, and its willingness to treat every region with the respect it deserves.