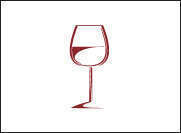 "Classic cuisine with a clever modern twist," is the promise at Vida Rica in Macau's Mandarin Oriental Hotel. And if that sounds like the mission statement of many other restaurants around the world, it's something the Vida Rica team achieves with flair in dishes such as Alaskan spider crab and caviar wrapped in lobster jelly, avocado, and mango sauce with sour cream and Sturia caviar or Szechuan-style poached turbot in spicy broth, cucumber ribbons, and vermicelli.
The wide-ranging wine list has similar aims, filled as it is with bottles from classic and up-and-coming regions alike. What the judges at the World's Best Wine Lists described as an "excellent selection" starts with a nod to the island's Portuguese heritage in the shape of a pick of Douro, Alentejo, and Madeira wines by-the-glass—a theme that is continued further down the list in a varied choice of modern Portuguese wines.
With strong selections of mature Bordeaux (including a handful of 1982 first growths), the list ranges widely from the Antipodes to Argentina, Spain, South Africa, the USA and Italy, and includes a short, but varied by-the-glass program.