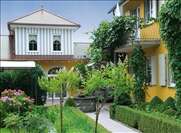 A luxury hotel on the German side of Lake Constance, Villino boasts a Michelin-starred restaurant that mixes local, Mediterranean, and Asian influences to superb effect—and a World's Best Wine Lists three-star wine list with a similarly eclectic international feel.
This is a relatively concise, carefully composed, but varied list that covers much of the world with distinction, from the classics of France to the big guns of Australia and California, and featuring many highlights.
There's a strong selection of German wines, arranged by region, from Baden to Rheinhessen, and taking in growers from the Nahe's Armin Diel to the Pfalz's Bassermann-Jordan. Austria, just across the lake, and Italy are also well represented, with a variety of wines and vintages from the likes of Knoll, Prager, and Pichler, and a remarkable collection of verticals from Super Tuscans Ornellaia, Sassicaia, and Solaia.