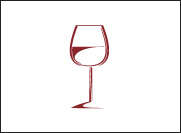 A longstanding favorite on the Central Californian dining scene, the Vartanian family's Visalia's Vintage Press Restaurant has been welcoming guests since 1966.
On a classic American restaurant menu, dishes include a range of prime cut steaks and pasta dishes, plus sashimi and fish dishes such as pistachio-crusted king salmon with white wine, lemon, and sliced red potatoes.
The wine list is also classically American in orientation, featuring multiple vintages of Cabernet Sauvignon from established top producers in the restaurant's home state (Diamond Creek, Caymus, Beaulieu, Shafer, Stag's Leap, Opus One, Viader … the extraordinary list goes on), but also finding space for lesser-spotted Californian varieties such as Agliancio, Dolcetto, and Tempranillo.
But that's very far from being the whole story. The list is also strong in classic France and Italy, features many fine wines from Australia, New Zealand, Spain, Argentina, and Chile, and concludes with an extensive set of international fortified and dessert wines.
www.thevintagepress.com