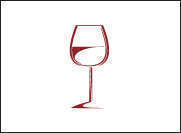 Vittoria Trattoria is the umbrella name for three separate and sumptuous restaurants, but its Bywater Market location encapsulates its famous wine list.
Owners and brothers Cesare and Dominic Santaguida share an affinity for the noble beverage that's reflected in their collection of 800 diverse references. Thus, it's no wonder that they achieved an award level of three stars in the World's Best Wine Lists 2017.
While the hearty culinary tradition of Italy influences the gourmet menu, an international offering of varietals pairs with the rustic dishes. The list is populated by major wine-producing territories such as Canada, New Zealand, and the United States, offering a rich selection and plenty of choice.
White wines include, but are not limited to, the fresh and versatile flavours of Pillitteri's 2013 Chardonnay 23. Vittoria Trattoria's robust selection of red wines include the light cherry and almond undertones of the 2015 Valpolicella Classico, from Italy's Veneto region.
Other countries such as Argentina, Australia, Canada and the U.S also contribute their impressive entourage of crimson vintages.
Judges were impressed by the wine collection, coming in a variety of formats including half bottle, and the reasonable prices.