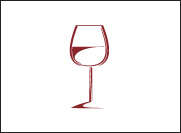 "Contemporary American cuisine with Italian undertones" is the culinary philosophy at New Jersey's Water & Wine.
Served in a lakeside dining room, dishes such as diver scallops, porcini mushroom risotto, scallions, Sherry, and crispy prosciutto, or ricotta gnocchi Bolognese with three meat ragu, besciamella, and fried parsley make good on that philosophy.
And the wine list, too, is similarly flavored, with what the judges at the World's Best Wine List 2015 summed up nicely as a "wise selection" of Italian and American wines.
Featuring good prices throughout, the Italian list makes its way from Elena Walch Pinot Bianco from Trentino-Alto-Adige through a deep selection of top Barolo, Barbaresco, Brunello di Montalcino, and Super Tuscan reds, to Sicily's COS and Terre Nerre.
The American selection, meanwhile, is a blend of new stars and big established names from Arnot-Roberts and Sandhi to Harlan and Viader, making this an impressive Cal-Italian list.
www.visitwaterandwine.com