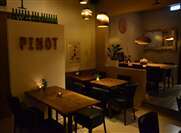 For five years Wijnbar Pinot has been the place to be for wine lovers in the southern Netherlands.
From just a glass of champagne with some oysters and pata negra to a six-course tasting menu, anything is possible on a night at Pinot.
The same goes for the wine; a wide assortment of bottles between €20 and €40, with many options by the glass, and onwards to the big names (Krug, Leflaive, Comtes Lafon, Grange etc)—almost too much to choose from.
That's why there are always several sommeliers on site to help with the selection and look after your bottle, glassware and temperature to make sure you have the best possible experience.