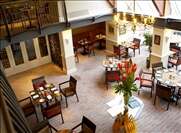 In terms of both its arrangement and its composition, there's a refreshingly different approach to the wine list at The Winepress restaurant at the Donnington Valley country hotel in Berkshire.
Starting with a large selection of wines available by the glass or the 50cl carafe, The Winepress list largely eschews the endless lists of regions and sub-regions that are a feature of most serious restaurant lists, instead grouping its wines first into "The Unusual Suspects" and "Classics," and then by style, with headings such as "Crisp and Dry," "Fragrant," "Rich," and "The Beauty of Age."
It's an approach to presentation that works well on a list that is strong on off-the-beaten-track choices; the extensive by-the-glass list alone takes in Croatia, England, Greece, Lebanon, Thailand, and Turkey. The quality of the producers means these off-kilter choices never feel tokenistic or gimmicky, however. And there are in any case plenty of alternatives from classic France and Italy, and from highlighted producers such as the Douro's Quinta do Crasto and California's Peter Michael, on an engaging, fun list.