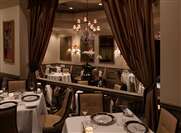 Having garnered recognition from the James Beard Foundation among other prestigious culinary institutions, the Albany's restaurant, Yono's, is considered to be one of New York's standout fine dining destinations.
Since it opened in 1986, chef Yono Purnomo has been introducing diners to his signature fusion of contemporary American and Indonesian cuisine, while showcasing seasonal ingredients from the farms of Upstate New York; a number of these farms and artisan producers are featured on the menu.
Expect dishes such as braised Columbia County heritage suckling pig with ginger butter poached carrots, lemongrass jasmine rice and orange ginger sweet soy.
For the full gastronomic experience, opt for the Chef's Grand Tasting Menu.
Paying just as much attention to the wine as the gastronomy, the restaurant has established Yono's Wine Program featuring fine wines from every major wine producing region in the world.
Placing particular focus on boutique and small production wines from family owned and operated wineries.
Our judges praised the outstanding by-the-glass, Champagne and fortified wine selections.