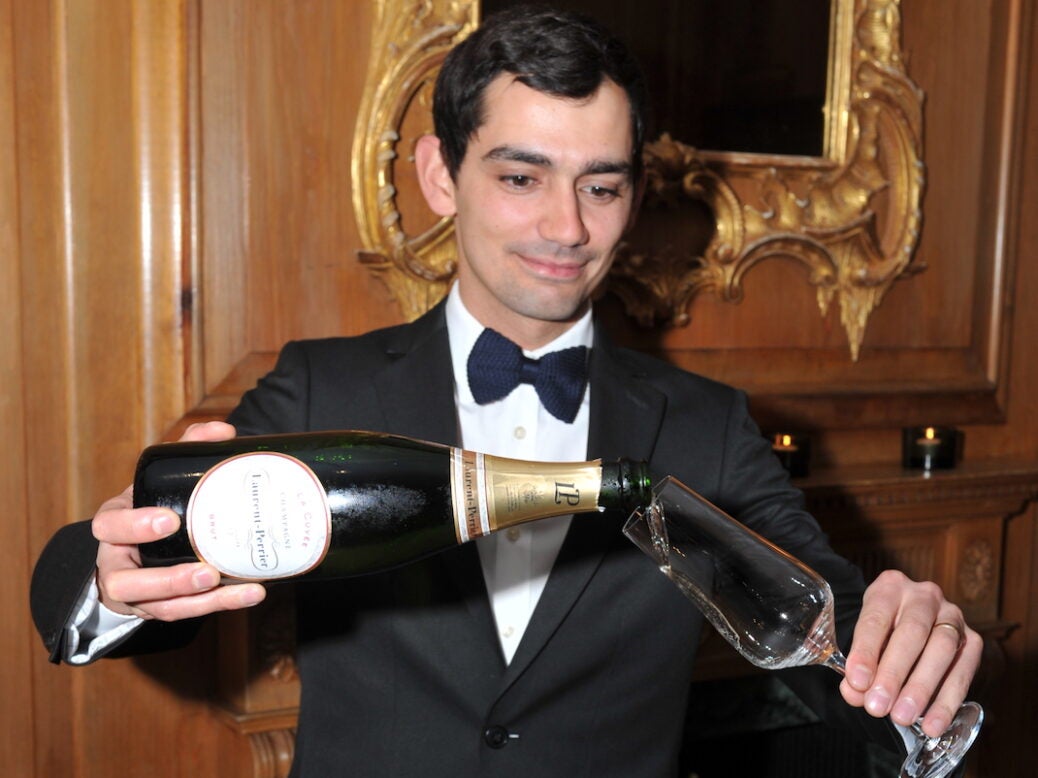 Matteo, who came to London six years ago to work at The Shard, then The Ritz, and Locanda Locatelli, before taking up his post at The London EDITION Hotel in Fitzrovia, commented, "This is a great honor and I am excited and proud to win. The competition was very tight, but all that hard work paid off. I have an understanding wife, Eloisa, who put up with those long hours of extra studying! I would like to thank her, and the team at EDITION, for all their help and encouragement to get me here today."
With just a few points between them, and all the finalists' scores remarkably highly, Salvatore Castano, head sommelier at MASH came a close second, and Paul Robineau of Moor Hall, Lancashire took third place.
The Chaîne de Rotisseurs' Young Sommelier of the Year Award is a challenging contest where young sommeliers in Britain, aged between 21 and 30, and working at Chaîne member establishments nationwide, compete at the Gaggenau Showrooms on Wigmore Street, London. The competition involves a series of practical activities testing their wine knowledge, service skills and blind tasting abilities.
Judges this year were Isa Bal MS, Nigel Wilkinson MS, Stefan Neumann MS, Steven Spurrier and Christelle Guibert – alongside Philip Evins, bailli délégué for the Chaîne des Rôtisseurs, who emphasised that the knowledge and skill of contestants was impressive and reflected year- on-year improvement in both ability and application:
Philip said, "The contest is not only about skills and knowledge but is also about the passion and ability to present to guests – or in this case – our judges!"
Matteo will now go on to represent Great Britain in the Chaîne des Rôtisseurs' International Young Sommelier Finals which will take place in Seoul, South Korea on September 18-23, 2019. In preparation for the global championships, he will be given top coaching and mentoring by key members of the Court of Master Sommeliers.
The Chaîne de Rotisseurs' Young Sommelier Awards expanded this year with young Frenchman, Paul Fauvel, head sommelier at The Lanesborough, receiving the inaugural Gerard Basset Tasting Trophy.
The trophy is awarded to the Young Sommelier competitor who scores the highest marks in the blind tasting and food matching elements of the Finals.
Gerard's widow Nina, and their son Romané, presented the trophy, saying, "Gerard always loved blind tastings. In fact it was his favorite part of any competition. I know he would have been very proud of this choice. It is so fitting to have a tasting trophy like this in his name."
In a moving ceremony, paying tribute to Gerard Basset, Evins said, "Gerard was not only a good friend to us all, but also an enthusiastic contributor to the Chaîne, helping us to create the GB competition back in 2008. He remained Chair of the Judges until this year, and we have so much to thank him for. Gerard was life-enhancing, and a wonderful mentor of young people, encouraging them in their careers."