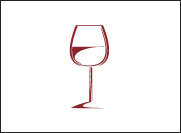 A pair of adjoining restaurants now housed in a restored building in downtown Sandusky, Ohio, Zinc Brasserie with Hearth Tavern is the work of husband-and-wife team, Cesare and Andrea Avallone.
Between them the two restaurants, which share a kitchen, offer a range of culinary choices, with Hearth's choice of wood-fired pizzas complementing an upmarket French-inspired menu at Zinc, which runs from lobster bisque en-croute to pan roast duck breast, crispy duck leg confit, butternut squash risotto, and sour cherry sauce.
Wine plays a starring role in both, with a brilliantly varied, unfussily presented list. Domestic wines play a starring role, with a fine Californian range backed up with plenty of choices from the Pacific North West. These take their place alongside imaginative selections from across the globe, from Austrian Pinot Noir to Argentine Malbec, via Brunello di Montalcino, Austrian and German Riesling, and a local Sandusky, Ohio Icewine.