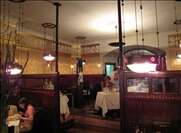 First established in 1618 as a shop selling spices and exotic foods, Zum Schwarzen Kameel ("the black camel") is a much-loved Viennese culinary institution that today houses a delicatessen, a patisserie, a pavement café, and a fine-dining restaurant all under one splendid Art Nouveau roof.
The restaurant menu offers a balance of traditional Viennese cooking (Viennese schnitzel, veal goulash) and more internationally inspired dishes (Styrian organic chicken with sage chipolata, risotto from green asparagus, and pak choi). And the 800-bin wine list, overseen by wine (and cheese) sommelier Johann Georg Gensbichler is similarly divided, offering both a superb selection of Austrian wines and an impressive set of French, German, and Italian producers.
In the international context of the Word's Best Wine Lists awards, it was Zum Schwarzen Kameel's Austrian list that really impressed the judges. The jewel in the crown is a truly astonishing collection of the peerless sweet wines of the Burgenland's Kracher winery. But there are many more fine Austrian choices, from Hirtzberger and Knoll to Pichler and Prager; and from Muhr van der Niepoort to Umathum and Uwe Schiefer.