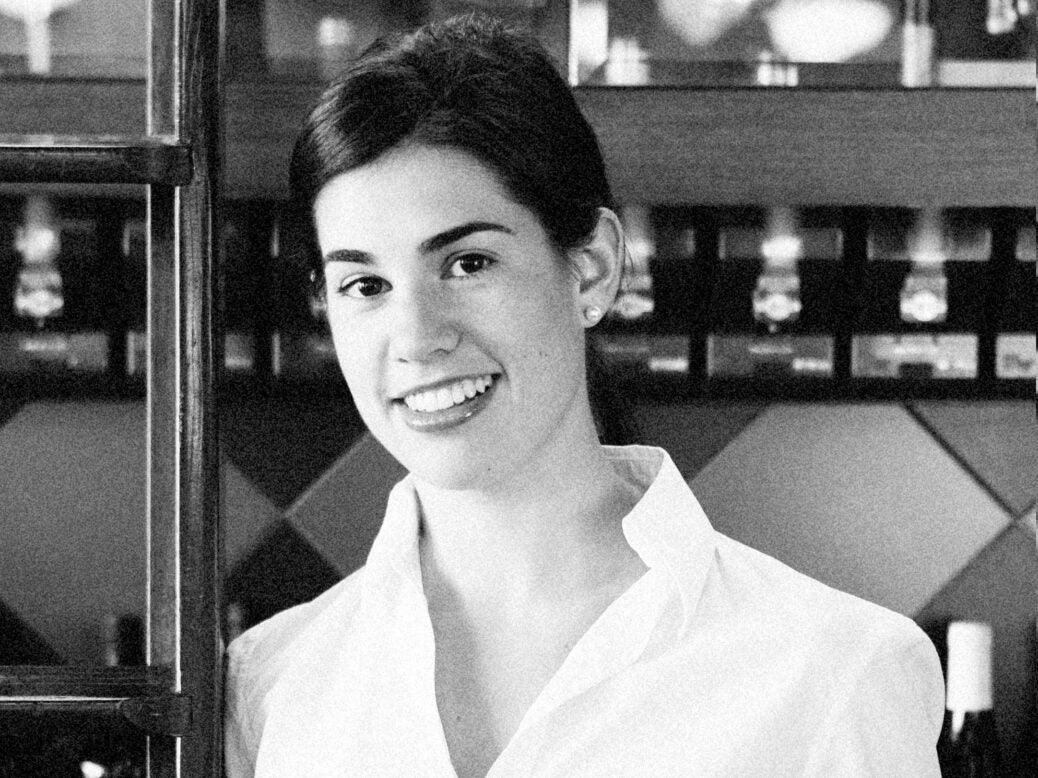 Kara Maisano is the sommelier and wine director at Masani, a fine dining Italian restaurant located in Carlton, Melbourne, Australia's cultural hub for gastronomy. WFW spoke to Maisano about her motivations and inspirations in the wine trade, and the passion for her art is clear.
Maisano holds her WSET Diploma, is a COMS Certified Sommelier and a Vinitaly International Academy Italian Wine Ambassador, where her role is to bridge the connection between Italy's wine industry and the rest of the world, or in her case, Australia.
Spending time with Ronan Sayburn MS and reflecting on a childhood "show and tell" inspired by Champagne are just a couple of the things we discover about Kara. Read on for the full interview.
What is your favorite part about being a sommelier?
Where do I begin… the people, the passion, and the stories. You are always learning and discovering regions, producers, vineyards, grapes, and styles. I am very fortunate to look after guests who are advocates of fine wine and allow me to recommend and serve them wines from our ever-evolving cellar! That is what gets me out of bed: seeing them replete with joy and fascination.
Traveling overseas to regions and meeting the winemakers, the people, and relishing their hospitality is truly special. You meet many amazing personalities in the world of wine. I also love sourcing and unpacking the wines, after researching, finding and tasting them – finally you have them in your hot little hands.
Are there any particular wine regions or countries that have inspired you most or most recently?
Sicily's Etna region has made some real waves with excellent wines that are polished and speak of their own terroir. The white, red, and rosé of Etna are made from native grapes, Carricante and Nerello Mascalese respectively, having developed into their own styles which are deliciously mineral and vibrant. I serve them by the glass and find they are great paired with our dishes; be it simply grilled scampi or chef Richard's roast Barossa Valley duckling. It is great to see Southern Italy in the limelight, reflecting seriously focused producers.
How do you create an award-winning wine list? What goes into creating an award-winning wine list?
You start with an owner who has a vision and passion as vast as yours. I was fortunate to have taken over a list and cellar that was already established with benchmark wines, in particular flagships of Australia, and then I have slowly built it up from there. Many a time I have been apprehensive to change the offerings, especially for traditional customers, but I aim to keep the list comprehensive and classic yet diverse and challenging. Guests travel a lot today and engage with food, wine, and culture along the way, which has meant our wine list has been embraced. I have also continued to push the boundaries and I have my studies to thank for that, namely the Wine & Spirit Education Trust and the Court of Master Sommeliers, an essential toolbox for any wine list.
What are your bottles of choice at the moment?
South African Chardonnay by Thelema, Coolangatta Estate Semillon from Shoalhaven Coast, NSW, Dry Furmint from Hungary's Oremus, Etna Bianco, Rosato, and Rosso from Alberto Graci, Warrenmang's Black Puma Shiraz from the Pyrenees (Victoria), Pinot Noir from Germany's Bernhard Huber, fine Cabernet from Lebanon's Chateau Musar, and unctuous Sauternes from Château Coutet.
When looking for a good wine list in your home city, which restaurants or wine bars do you like to visit?
I look for quality-driven wines and an eclectic offering. Philippe is a lovely French restaurant in the city, featuring chef Philippe Mouchel, and the wine list is a lovely neat collection of France's regions. My favorite watering holes are Cookie and Magic Mountain – lots of fun, great food and music, and open till very late, which is perfect for me. They have an exhaustive range by the glass that is always changing – my favorite for summer has been the Schloss Lieser Thomas Haag Riesling Spätlese and Perrier-Jouët Brut.
Are there young sommeliers who you believe will go on to achieve great things?
Loic Avril of Dinner by Heston and James Dossan of Estelle, both in Melbourne, are energetic gentlemen who are very humble and knowledgable. They are the epitome of service and committed to their trade in every way. They work hard and study even harder. They have a gift for sourcing great wines and sharing them with those who care. I am proud to have them as colleagues and friends. I believe they will lead the way in our developing and intimate sommelier culture here in Melbourne.
Who do you believe is the most influential sommelier to have lived?
Ronan Sayburn MS is a mentor and leader in every sense. I have had the privilege of learning from him in workshops, where his approach to wine, and to tasting in particular, is pragmatic and logical. He is a great speaker and is enthusiastic to engage with on any topic of wine. He inspires me and many other sommeliers. I recently visited one of his new ventures, 67 Pall Mall, meeting Gareth Ferreira and Terry Kandylis, and experienced wonderful hospitality and friendship, another extension of Ronan's passion for sommeliers.
What is your go-to celebratory sparkling wine/Champagne?
I have always loved richer expressions of Champagne, and I can never go past Charles Heidsieck, with its high proportion of reserve wine in the NV Brut, or of course Bollinger NV, with its creamy brioche crust tones.
I was recently a finalist on the Vin de Champagne Awards in Sydney and learned so much, which just made me want to drink more Champagne! Their craft is still so unique and there are so many decisions at every step of the process that the region is evolving as much as its wines.
Champagne is also my first ever memory of wine – so it is a very special drink to me – namely, Perrier-Jouët Belle-Epoque 1990. I loved the hand-painted bottles (in those days) and took it to school for show and tell.
What is the best bottle of wine you've ever tasted?
This is a very hard question. There are so many. But there is one… 1997 Joseph Drouhin Marquis de Laguiche Montrachet Grand Cru. It was simply ethereal, magic really.
What is the rarest wine you've ever tasted?
1983 Grange Hermitage and 1986 Château Lafaurie-Peyraguey Sauternes. Aged wines are a world unto their own. Grange's fine tannins and supple spice lingered with such power and precision. The Sauternes was luscious and honeyed and finished so clean and floral – I could not believe its age, at 30 years old the wine was still sharp.
What wine trends did you see in 2016? Did you discover anything new?
I delved further into native grapes, dry Malvasia from Friuli, mineral-laden Assyrtiko from Santorini, nutty aged Furmint from Hungary, delicious pétillant naturel from Georgia, polished Dolcetto from Dogliani DOCG, and crunchy Nero d'Avola/Frappato from Sicily. I was also very impressed by South Africa's Pinotage – don't knock it till you try it! In terms of trends, I have seen guests passionately return to Chardonnay in all styles, from poised, lean, and citrus sharp, to rich, textural, and creamy – guests are loving them.
What trends do you anticipate for 2017?
More exciting wines and producers from Eastern and Southern Europe: Slovenia, Croatia, Hungary, Portugal, Greece. I feel that guests are exploring international wines now more than ever, so I feel they will only embrace different regions and their wines. Getting past a grape name and demystifying "dry," "smooth," and "fruity" can be a serious challenge for a sommelier. The New World is also bringing much promise and value for money: South Africa, Argentina, New Zealand.
What inspiration do you take from The World of Fine Wine magazine?
The articles and tastings are written with such affection and artistic vocabulary. Fascinating minds express views and ideas where perhaps others are not willing to go. I am also inspired by the wines and regions that feature, uncovering something special, taking me there in spirit and soul. The tastings at the back are priceless and a great reference for my research and purchasing.
What do the wine awards mean to you? How has it affected you and your establishment?
Well, the first year of the awards was very special; we were one of only 14 restaurants in Australia to have received the 3 stars – a thrilling achievement. This has also set the bar to keep the wine list on target with our philosophy and up to date with the world of wine, a motivation that is much needed in our industry.
The wine awards have also had a great impact on our patrons – it was perhaps the assurance they needed. As for a sommelier, it's a dream come true, the recognition after all that dedication, effort, and investment. It is also a connection to my mentors in the wine world, it's as if I am talking to them – that is perhaps the most special, the knowledge that you are connecting with your esteemed peers. Thank you!