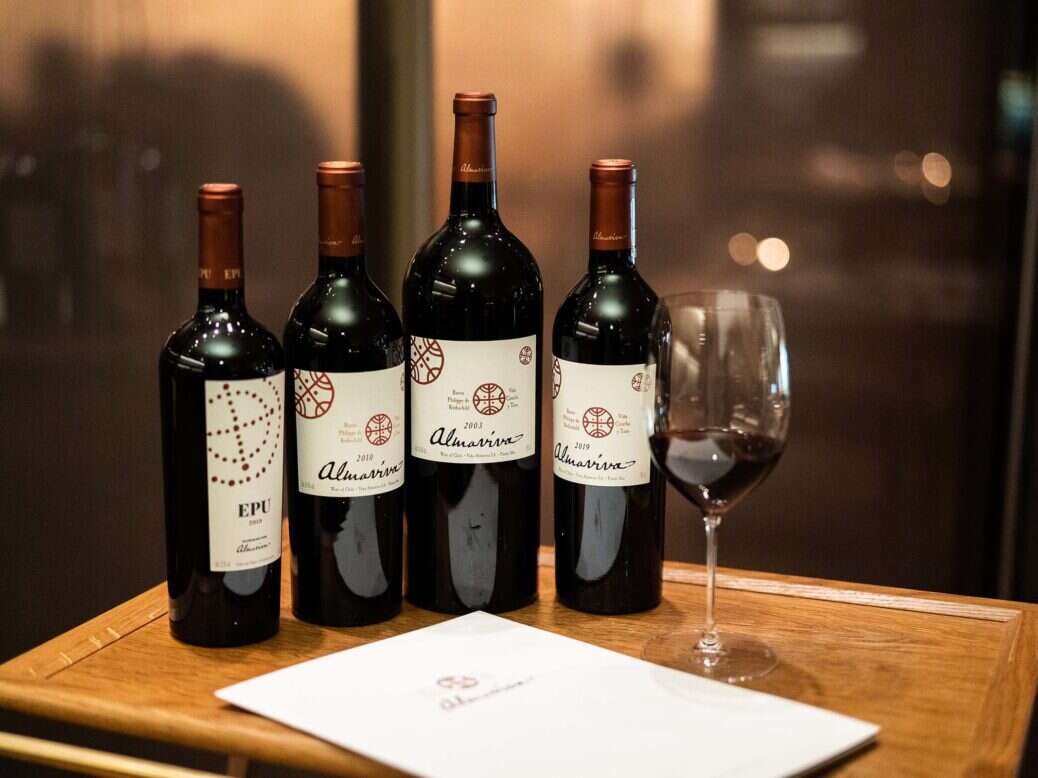 Victoria Daskal reports on a very special evening hosted by Almaviva and The World of Fine Wine at London's Hide restaurant to mark the launch of the leading Chilean producer's latest releases: Almaviva 2019 and the first global release of second wine, EPU 2019.
As we gathered at Hide restaurant in London for a special Almaviva dinner on November 19, 2021, winemaker Michel Friou mused over his final trip before the pandemic for the release of the 2017 Almaviva. We had been in this very room for his presentation of that stellar vintage. Having been compelled to forsake a live tasting release last year, how fitting that Michel's first trip out of Chile was back to London for the double release of Almaviva's 2019 vintage and the first global release of the second wine, EPU 2019.
An inter-hemisphere and inter-cultural joint venture between Mouton Rothschild and Concha y Toro, Almaviva was established in 1997. "Actually, the first vintage was in 1996—they signed the contract in 1997 and launched on La Place [de Bordeaux] in 1998," Friou specifies.
Where Chilean nature meets French expertise
The crux of their success is the combination of their treasures: Chile offers its soil, its climate, and its vineyard, while France brings its winegrowing traditions and expertise. However, native Frenchman, Friou, who joined Almaviva in 2007 as chief winemaker, recognizes another essential piece to this puzzle: local knowledge. Having already worked in Chile for more than a decade, at Escudo Rojo and Casa Lapostolle, before taking over at Almaviva, he's had time to cultivate a local understanding. He identifies a few examples of how an ideal scenario in France does not always translate so well in Chile.
One such example is where to find the ideal terroir. Almaviva's 210 acres (85ha) are located in the highest part of Maipo Valley, in Puente Alto, its most highly prized zone. More specifically, the vineyards are located on the northern bank of the Maipo River, at the foot of the Andes cordillera, in the Maipo River basin. "The farther from the river you go, the more loamy clay you find in the soil," explains Friou,"and you get better wines—unlike in Bordeaux where it is better to be closer to the river."
EPU: A strong start
Friou began with the latest vintage of Almaviva's second wine, EPU 2019. Pronounced Eh-Pu, it means the number two in the Mapuche language. The second wine has been around since 2006 but was always produced in small quantities and primarily sold to Chile and Brazil, with a tiny amount going to Japan. For the first time, in September 2021, EPU 2019 was sold via La Place de Bordeaux, under a redesigned label that is similar in style to Almaviva. It was a strong start to the evening's tasting, boldly paired with a dish of Celeriac with chervil, angelica seed, and ripe avocado. The wine was immediately open and generous on the nose, offering ripe cassis and clove punctuated by notes of fresh spearmint. The palate was harmonious and smooth, with lovely dense layers of perfectly ripe fruit. "EPU is a good introduction to Almaviva. It's a wine for drinking now, for the next five years," says Friou. As part of the relaunch, EPU, which was previously bottled only in standard and half-bottles, is now also available in magnum. It represents one third of Almaviva's production and is expected to sell for around one third of the price.
A trio of Almaviva
Next came three vintages of Almaviva: 2019, 2010, and 2003, all presented in one flight.
The 2019 is an intense and focused wine, with powerful yet sleek tannins. Very well-balanced, its ripe richness plays well with the fresh acidity. The 15% ABV is almost unnoticeable. Bravely paired with the Chilean seabass cooked in wood shavings with honeyed turnip dressing and perilla wrap, the wine did not overpower the dish, and actually complemented the firm flesh of the fish with finesse.
The 2010 was a real showstopper, showing off its spicy caramel and toffee nose, ripe cassis, and crushed velvet tannins. A beautifully developing wine that has entered a new stage of maturity, but with a still-bright acidity, great structure, and ample fruit to indicate even more joyous years ahead. Friou shares three facts about the 2010 vintage: "It was a very cool vintage, with a lot of coulure. This was the first year we started including Petit Verdot in the blend. And, it was also the earthquake year, we had regular shivers in the winery following the big earthquake."
The 2003, made by Michel Friou's predecessor, and poured from magnum, was paired with a Pecan, coffee, and cascara baked Alaska. It's always a challenge to pair a dry red with dessert, yet the 2003's toffee and prune nose and almost powdery, mature tannins did not flinch. It stood apart from Friou's remarkable vintages, but still proved its point of how well these wines age.
A quarter century of evolution
It's fascinating to see the evolving encépagement over the years (all vintages are aged 18 months in new French barrels): 2003, 73% Cabernet Sauvignon, 24% Carménère, 3% Cabernet Franc; 2010, 61% Cabernet Sauvignon, 29% Carménère, 9% Cabernet Franc, 1% Petit Verdot; 2019, 68% Cabernet Sauvignon, 23% Carménère, 5% Cabernet Franc, 3% Petit Verdot, 1% Merlot. Friou says they continue to replant an average of between 2 and 3 percent of their vines per year to maintain their vineyards, but the biggest concern ahead continues to be water availability, for which they are digging wells and managing through revolutionary underground drip-irrigation.
As Almaviva prepares to celebrate its 25th anniversary, the team's deepening knowledge of the land and long-won expertise will surely see them overcome these challenges successfully.