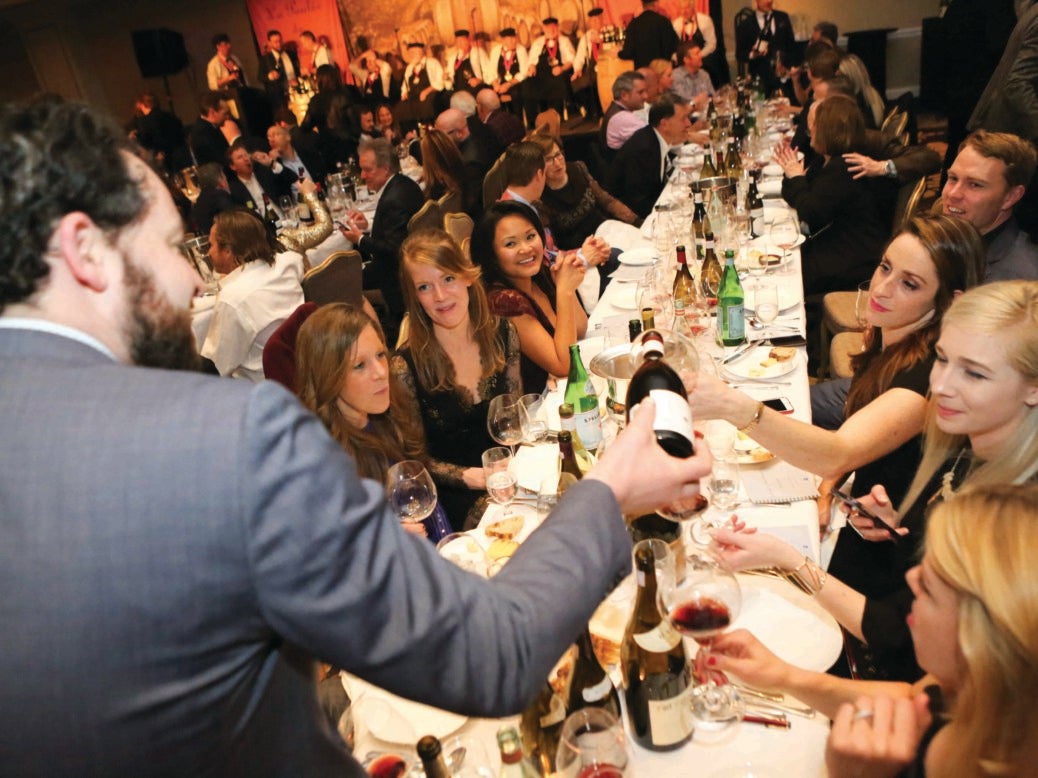 The last days of February and first few of March 2018 saw La Paulée, the Burgundy event created by Daniel Johnnes, volley back to San Francisco from New York, as it does every even-numbered year. Modeled on, and borrowing the name from, the Burgundian tradition of the postharvest blow-out party thrown by a domaine for its workers and friends, Johnnes's event (which is actually a cluster of individual functions) has become the Burgundy event of the year in the United States, if not the world. Compared to a Burgundian paulée, Johnnes's may lack the same intimacy and could not deliver the same release of tension that follows the stress and sheer hard work of a wine harvest, but an abiding camaraderie nonetheless exists at La Paulée in the US, as Burgundy lovers from all over the country and world convene—many attending faithfully, year after year—to survey the most recent vintage, participate in focused tastings and meals, and share bottles from their collections at the gala dinner. It's a singular opportunity. No Burgundy event of this scale or quality level exists anywhere else—arguably not even in Burgundy.
The schedule was typically jam-packed, starting with a small buy-out dinner at The Morris, a wine-oriented restaurant opened two years ago by noted California sommelier Paul Einbund. The focus was the "Next Generation of Burgundy," honoring the talented, 28-year-old winemaker Maxime Cheurlin of Domaine Georges Noëllat. The next night saw the raucous "Off-Grid Tasting," highlighting Burgundy beyond the Côte d'Or, with wines from Chablis, the Chalonnais, Mâconnais, and Beaujolais.
More exclusive (and expensive) events also passed off flawlessly: The Rare Wine Dinner featuring Domaine Comte Georges de Vogu¨é, with Musigny from 11 vintages between 1990 and 2015; the Collector's Lunch with Dominique Lafon of Domaine des Comtes Lafon and Charles Van Canneyt of Domaine Hudelot-Noëllat (with the latter domaine supplying Richebourg 1983, 1999, and 2014, as well as Romanée-St-Vivant 1988, 2001, and 2012).
The wonderful glass-paneled room at the top of the Fairmont Hotel served up the Bay Area in panorama for the Verticals, an instructive walk-around tasting of three vintages of the same vineyard supplied by a couple dozen producers. The final afternoon saw the Grand Tasting, another walk-around affair in which guests could thoroughly sample the 2015 vintage across all the villages from all the participating producers. And that night the Gala Dinner provided its usual pyrotechnics with a multicourse dinner for 400, cooked by several of San Francisco's top chefs, and plenty of tremendous Burgundy brought by the guests and served by a small army of sommeliers. For those not seated at the same table as the big collectors, there was still plenty of wine to go around, as the visiting vignerons and their wines were spread throughout the banquet hall.
A distinct exuberance and joy
For regular attendees, La Paulée offers a good opportunity to check in on the state of the region, and this year's edition particularly brought new food for thought. One wouldn't think the cast of a region that's existed for a millennium would change much from year to year, but nor would one think a mere six years ago that there was much cause to fear for the fate of liberal democracy in the West.
Given the fears surrounding the price increases, climate change, difficult harvests, and growing scarcity of Burgundy over recent years, one might assume that a sense of dismay would pervade the Paulée. In fact, the opposite was true. "Of all the years I've been coming," one gentleman at my long table at the gala dinner said, "this seems like the lightest, the most festive." Indeed, he wasn't the only one to have this impression; many people noted a distinct exuberance this year—an ease, a simple joy. Even Daniel Johnnes himself couldn't explain it. "I don't know what it was," he said, "but there was a lot of energy and joy this year. Maybe it was because of all the young producers."
If anything characterized this year's event, it was the comparative lack of marquis or superstar producers like DRC, Roumier, Rousseau, Dujac, Coche-Dury, Roulot, and such. To be sure, the 2018 headliners were hardly chopped liver and included Lafon, Fourrier, and de Vogu¨é, Lamy and Bonneau de Martray. Nevertheless, they didn't represent a preponderance of the crème de Vosne-Romanée, Gevrey-Chambertin, or Volnay. Instead, attendees were treated to a phalanx of lesser-known, younger producers or at least those representing generational shifts—such as Domaine Arnoux- Lachaux, Domaine Génot-Boulanger, Domaine Moreau-Naudet, and Domaine des Tilleuls, not to mention younger known quantities such as David Croix of Domaine des Croix and Maxime Cheurlin of Domaine Georges Noëllat.
Despite the energy that young vignerons bring and the curiosity that they inspire, the easygoing spirit animating this Paulée may have been correspondingly due to the absence of some of the legends. At least that's how it felt to this observer. When the tastings and dinners lack the esteemed presences of the likes of d'Angerville, Leroy, de Villaine, Rousseau, Dauvissat, and Coche, gone are the feelings of urgency, desperation, and perhaps even disappointment that can weigh on people worried about being left with that all-too-modern phenomenon known as FOMO—the fear of missing out. The absence of FOMO in turn leads to the open-minded sense of discovery and weightless pleasure that were excitingly evident throughout the proceedings this year.
If there was a pleasing take-away from the Paulée, it was in this vein. The fear that younger generations may never have the opportunity to know grand Burgundy is, alas, fully justified. Even ten years ago, such wine was relatively scarce, and that was before large, wealthy markets outside Europe and the United States developed a taste for it. Even then, at least most top Burgundy still appeared on the wine lists of serious restaurants. Now, so much of it flows straight into the cellars of collectors around the world that even well-placed sommeliers rarely see it. But while there will be ongoing anxiety among longtime Burgundy lovers that their favorite region will go the way of Bordeaux and be lost to a generation (or more) of young Americans, that concern was allayed as much as it could have been at this Paulée. Absent the most elite domaines, here was a salutary and timely reminder that great Burgundy is still being made and indeed continues to improve as a new generation of vignerons comes to the land with greater knowledge and skill than their parents had at a similar stage.
An education and inspiration
The emphasis on sommeliers in this discussion is part of a larger point, since it's easy to forget that Daniel Johnnes— now an importer, entrepreneur, and ambassador—himself started as a sommelier. And from the beginning, he says, the education of sommeliers in all things Burgundy was part of the La Paulée formula. Sommeliers are always drawn to great wines like bees to blooms, but today's fear that they may hardly get to know the standard-bearing wines of Burgundy provides even stronger motivation for them to volunteer their services.
Sommeliers are, after all, crucial to the La Paulée experience, for guests and producers alike. Not only do they make the wine flow, but it flows gracefully and on target. Managing the team of sommeliers is a big responsibility, as in turn is their management of the hundreds of cases of bottles that come in for the Gala Dinner. Yet these are the very wines that lure the sommeliers, as the fear rises that they might never encounter a Romanée-Conti, La Tâche, Leroy Richebourg, or Leflaive Montrachet.
"Every sommelier participates in the Paulée—at least for the first time—for that eighth of an ounce of DRC," says Sara Morgenstern, a bi-coastal sommelier and winemaker on her first La Paulée. "That's it. That's why you're flying across the country."
Even so, sommeliers deserve acknowledgment for the efforts they make to show up. After all, they are not paid, nor is their airfare or lodging paid for. Rather, they take time off from their paid jobs to show up and work hard for several days. The remuneration? There are many ways sommeliers may benefit from accepting a coveted invitation to work at La Paulée besides the aforementioned potential taste of DRC. Camaraderie, honor, and networking in the profession certainly rank. But no greater reason exists than love of Burgundy itself.
This fact is not lost on Patrick Cappiello, the noted sommelier, importer, and wine purveyor who also serves as the head sommelier for La Paulée. Cappiello remarks that, besides the ongoing satisfaction of running the sommelier corps, the gifts of La Paulée to his career have been relationships and access to knowledge and experience with these wines— gifts he values as priceless.
"Every year, we organize a seminar in which a couple of vignerons do a masterclass in their wines for all the sommeliers in attendance—and only the sommeliers," says Cappiello. "It's one of the perks we offer them, since they're donating their time. This year, the seminar was Nicolas Rossignol and Benoît Riffault of Domaine Sauzet, obviously great producers. But when I went to my first Paulée, the sommelier seminar featured Aubert de Villaine and Anne-Claude Leflaive. We were tasting 1990 vintage DRC and older years of grand cru white Burgundy, which is astonishing if you think about it today. And in following years, we've had Jean-Marc Roulot, Jeremy Seysses, and the like. To have access to those wines and those minds was worth everything to a young sommelier. When you can speak with self-assurance about those bottles, vineyards, and vintages, you feel like you're qualified to work anywhere. It's a big confidence booster."
Of equal value to sommeliers is the opportunity to develop relationships with the vignerons, as they work side by side throughout the event. "Take Christophe Roumier," says Cappiello. "I got a chance to meet him in 2001, then visited him in 2003. We've continued the relationship, and I consider Christophe a friend now. The guy is an icon, a god among winemakers. To have had the opportunity to develop a personal relationship with Christophe Roumier early in my career is a pretty amazing thing."
Coping with magical chaos
For all these reasons, an appointment at La Paulée has become a hot commodity among sommeliers. Cappiello therefore has to be careful about whom he selects, especially because the number of sommeliers with experience in fine dining has declined. When interviewing prospects, Cappiello says, "The first question I ask is, 'what is the oldest bottle of wine you've ever opened?'" He's quick to add that there's no judgment implied but, rather, a need to understand the physical ability to open old bottles, something he recalls from personal experience. "I remember one of my first Paulées and opening a really old bottle of de Vogu¨é from the 1960s. I was trying to pull the cork out, but it started going into the bottle instead. I had a serious freak-out moment, but [veteran New York sommeliers] Tim Kopec and Robert Bohr both saw what was happening and came over to coach me through it, giving me pointers I still use today."
The second question Cappiello asks relates to the level of experience the sommelier has of working at big, high-end events. "One of the concerns —and nearly every year we have this problem—is sommeliers who aren't used to the luxury of having all this great wine around them and the desire to overindulge. It seems obvious, but I have to remind people to spit. No one forgets to spit at trade tastings. But if you're with a bunch of collectors who are sharing tastes of really rare, expensive wine, it can be easy to forget."
While the sommeliers provide support at all of the events, the focus is the Gala Dinner, which for even the most experienced and expert sommeliers can be an almost overwhelming occasion, due to the myriad transcendent wines on hand.
"Behind the scenes it's this kind of magical chaos, and out on the floor it reads as perfection," says Morgenstern, the above-quoted first-timer. "It's unlike anything I've ever been a part of. You go through the whole Paulée saying, 'Oh, my God, this is insane. Oh, my God, this is insane.'"
The average guest experience at the Gala Dinner is simple: You show up at the reception area and check in your bottle(s). You are assigned a table, to which you eventually make your way and take a seat. At some point, a sommelier assigned to your table comes out and confirms your wine is in their hands and asks when you want it. It is usually served as requested.
Behind the scenes it's less simple. Johnnes's team has been working for months, of course, to organize thousands of bottles. For every handful of guests like me who show up with a bottle or two, there's a massive collector sending cases of often priceless wines, often shipped weeks in advance. These wines must all be accounted for.
Morgenstern describes the Gala Dinner service thus: "All the wines come in and are deposited at the War Room, where they are assigned to various teams, all captained by experienced hands. One or two sommeliers are assigned to inventory each bottle by guest, so that essentially when you go out on the floor each sommelier has, let's say, eight guests, and that becomes their service area, their section of the table. None of the wines are opened on the floor. It's pretty classic service; the wines are presented, then they go back into the War Room to be opened."
Inevitably, the sommeliers get the first taste of every wine as they check it's sound enough to serve. "As you're tasting behind the scenes," she says, "if you get something that's really magical, you try to make that tiny taste go as far as you can with your team before the wine's brought out onto the floor. There you have the option to pour for the guests who brought it or maybe they'll have you pour it for the entire table. Maybe they'll ask you to find someone else who will love it and have you send it down. You do whatever they ask, but for the most part, everything happens behind the scenes. This is why the War Room is such a chaotic place, because we're dealing with broken corks, corked bottles, decanters—all the shenanigans during service, but out of view of all the guests and at a hyper-fast pace." Morgenstern had one of the highest-volume tables, which in the War Room looked like a ridiculous amount of wine to go through. She doubted whether it would even be possible to serve it all.
Another first-time La Paulée sommelier was Carlin Karr, the wine director of Frasca and Tavernetta in Colorado. She worked at "a very high wattage table that brought a lot of epic wine" under the direction of Rajat Parr and Robert Bohr and Frasca owner (and Master Sommelier) Bobby Stuckey. As for the wines, Karr says, "There was a ton of old Leroy, all from top vintages—tons of 1985s, '89s, and '90s. Dominique Lafon was at the table, so there were many great old Lafons. Otherwise, it was pretty much exclusively DRC (including the Montrachet) and Leroy—only excellent vintages."
All of this had to be sorted through and choreographed. Parr dictated the order of the wines, and then Karr and fellow first-timer Kimberly Prokoshyn (of Scampi in New York) were tasked with opening all the bottles and checking the wines for soundness— "a really fun position to have, because you get to taste through everything." A fun position, but also a highly charged one, with a hefty responsibility. "There were some bottles that Kimberly and I thought were great that Raj did not," says Karr. "So, he didn't serve them." Most of us would probably have been quite happy to drink from those questionable bottles that weren't even served.
As the frenzy of the dinner began to wane, and as sommelier teams started to get through the massive hoards of Burgundy their tables had brought, the sommeliers could begin to relax. "You focus on doing quick and speedy service, but at the end everyone is so happy that they've made it—they're about to cross the finish line—a sense of camaraderie and accomplishment comes through," recalls Morgenstern. "There are lots of emotional high-fives."
And then? The after-party, of course. "By the time the dinner's over, the euphoria starts, and the Champagne begins to flow," says Morgenstern. Then she adds, "Well, how may I properly describe how many pilsners are consumed at the after-party? Probably ounce-to-ounce pilsner to body weight."
La Paulée de New York 2019
March 5–9, 2019
After its biennial sojourn in San Francisco in 2018, La Paulée will return to New York City in 2019, with star producers, top chefs, tastings, dinners, lunches, and seminars. The event, which will take place March 5–9, will feature more than 30 leading Burgundian estates, each bringing an array of new and rare old vintages.
On the food side, the chef d'honeur, Daniel Boulud of Daniel in NYC, will be joined by César Troisgros of Maison Troisgros in Roanne, France, David Kinch of Manresa in Los Gatos, California, and Melissa Rodriguez of NYC's Del Posto, who will collaborate in the preparation of the Gala Dinner.
Special events
Other highlights of the four-day event, which, as ever, takes place in a variety of venues around the city, include a Mugneret-Gibourg Dinner at Legacy Records restaurant featuring Echézeaux back to 1955; a Domaine du Comte Liger-Belair Dinner at Eleven Madison Park; a Domaine Leflaive Dinner at Daniel focusing on Bâtard- Montrachet, Bienvenues-Bâtard-Montrachet, Chevalier-Montrachet, and Montrachet wines; a Domaine Henri Gouges Dinner investigating the terroirs of Nuits-St-Georges; a Verticals Tasting of three vintages of a chosen wine from the attending domaines; and a Grand Tasting of participants' bottles from the 2016 vintage.
Auction house Zachys will also host a La Paulée special auction, with proceeds going to La Paulée Sommelier Scholarship, featuring bottles sourced directly from attending domaines, before the event culminates in the Gala Dinner, for which guests are invited to "bring treasures from their cellars to share alongside those from attending winemakers."
In another of the event's distinctive components, the wine service will, as ever, be handled by the more than 50 top sommeliers invited by the event's organizers.
Tickets will be on sale from January 2019 at www.lapaulee.com