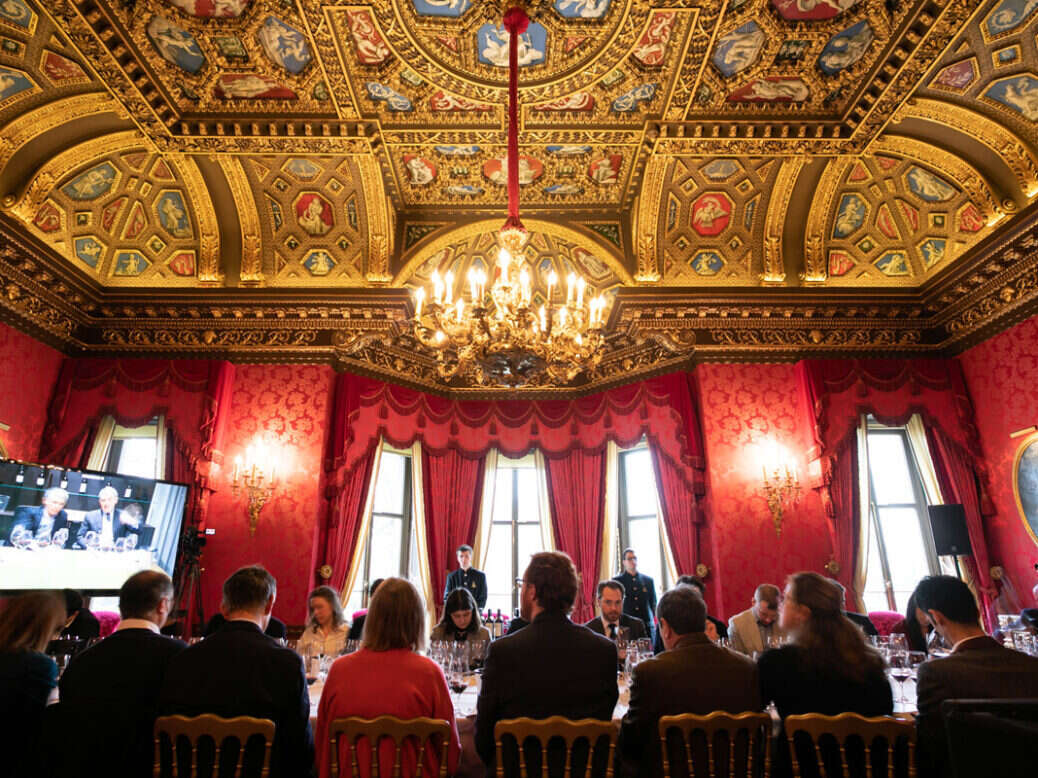 I've never met Renzo Cotarella, CEO and chief winemaker for Marchesi Antinori, but I benefited greatly from the two-hour virtual tasting of Tormaresca Bocca di Lupo he conducted via videoconference from his office in Tuscany for a group of wine writers and sommeliers gathered at The Ritz London on February 27, 2020.
A company-wide travel ban in response to Coronavirus thwarted his plans to lead the masterclass in person, but with a giant screen positioned toward the head of our table he felt to us very much present as he told the story of Aglianico, and Tormaresca's journey thus far.
"Aglianico is not easy to grow, not easy to make, and not easy to taste," Renzo warned by way of introduction to the Boca di Lupo flight in front of us (and on screen in front of him). The name Aglianico is often understood to be derived from Hellenico, meaning from Greece. But Renzo offered an alternative theory in which Aglianico is related to Agluco, meaning without sugar, and therefore bitter.
"Aglianico is all about managing tannins. Times two. Aglianico has astringency from the skin, and small and aggressive tannins from the pips; it can be very bitter when it reacts with the saliva." He didn't hold back on the painstaking efforts required to create a world-class wine from Aglianico, nor did he apologize for its powerful structure. "If you want sweet, soft tannins, you can go and drink Merlot."
The obvious question came up: What inspired them to invest in a winery in Puglia and take on the challenge of working with Aglianico? To which Renzo replied that first and foremost they fell in the love with the area. Sure, it presented many challenges, but there were opportunities, too. The possibility to be certified organic straight away being one. "It's easy to be organic here given the dry and windy conditions." And curiosity, with the desire to improve his knowledge, and the company's knowledge. "Vinifying in different places helps you learn how to make wine in new areas." Indeed, exploration is in the Antinori DNA, he explained, everywhere they go, they get inspired, adding the example of how visits to Chile prompted them to plant Carménère in Maremma.
Marchese Antinori purchased Tormaresca, which consists of two separate estates, in 1998: Masseria Maime in the Salento peninsula in southern Puglia, and Bocca di Lupo in the Castel del Monte DOC in the Murgia zone in the province of Barletta-Andria-Trani. This second estate covers 350 acres (140 hectares) of calcareous tufa at 1,000 feet (300m) above sea level. "The soil had to be cracked to loosen the rocks and allow the roots to grow. Which also created good drainage." Sometimes too good, as Renzo went on to explain that they are allowed to drip-irrigate their vineyards but must do it little and often, otherwise the water drains away immediately.
Renzo delivered a wealth of knowledge from the experiences they gained in the vineyard, and they've made significant advances in the winery as well. One of the most important he noted is the ability to remove the pips during vinification, which has transformed their more recent vintages into a more approachable style, bringing forward the start of the drinking window. Perhaps what was most impressive was his humanistic treatment of Aglianico. "It's an aggressive variety, but we don't need to be aggressive with it. We need to be gentle to achieve what we want. People don't need to be under excessive stress to be efficient either," he remarked about their gradual and delicate method of color and flavor extraction.
Is there anything they haven't cracked yet? Well, the whole question of oak aging is still being trialled, and if there's one small gripe with the attractive and informative tasting booklet they produced, it is that while they generously share information on the growing season and winemaking, they nearly omit their oak-aging regime, despite it being a prominent feature of the wine style. "It's critical to find the right wood, for the right vintage," said Renzo, "and we are still working on it." They tend now to use small French oak barrels for aging 15 months, having also experimented with Italian oak and finding it was too spicy for Aglianico.
He signed off with a warm invitation to visit the estates in Puglia, once again apologizing for not physically making it to London. Ironically, the wines showed so well, and his presentation via video was so clear, that one is left considering why more tastings aren't organized in this way by sustainable-conscious producers.
The Wines
Tormaresca Bocca di Lupo 2001 Castel del Monte DOC
90% Aglianico, 10% Cabernet Sauvignon; 14.5% ABV
Deep, dark, and dense in the glass. Each swirl opens up spice box, dried fruit, and earthy cedar aromas. Unmistakably big and with a rising intensity of tannins but absolutely no astringency or rough edges. Lots of flesh, power, and concentration, with an impressive freshness.
Tormaresca Bocca di Lupo 2004 Castel del Monte DOC
100% Aglianico; 14.5% ABV
Intense ripe black fruit, with savory and spicy character. Lots of energy from the powerful fruit and good acidity. Firm tannins blend in gracefully. Long, focused finish.
Tormaresca Bocca di Lupo 2006 Castel del Monte DOC
100% Aglianico; 14.5% ABV
Prunes, black cherries, cedar, and garrigue on the nose. Wonderful dual sensation of warmth and coolness with this wine. Rich and full body, with an underlying roasted character to the fruit, and once again a remarkable linear freshness tying everything together.
Tormaresca Bocca di Lupo 2010 Castel del Monte DOC
100% Aglianico, 14.5% ABV
A distinct floral note surpasses the black fruit and follows through on the palate. Youthful, firm, grainy, and even a touch salty. Block-like tannins, but no bitterness. All very exciting elements here, but could do with more time to settle and harmonize.
Tormaresca Bocca di Lupo 2014 Castel del Monte DOC
100% Aglianico; 14.5% ABV
Beautifully fragrant, with fresh violets, black cherries, and stewed prunes. Vibrant and intense, with a linear freshness, robust, and slightly dusty tannins. Very drinkable already, but worth aging.
Tormaresca Bocca di Lupo 2015 Castel del Monte DOC
100% Aglianico; 14.5% ABV
Penetrating black fruit, with layers of oaky toffee and spice. Tsunami-like palate, with building intensity of black cherry, licorice, and garrigue flavors. Multi-dimensional and complex.
Tormaresca Bocca di Lupo 2016 Castel del Monte DOC
100% Aglianico; 14.5% ABV
Red and black fruit on the nose. Earthy, warm, and spicy. Rich and rounded on the palate, with truly soft-edged tannins and a long, juicy finish. The youngest in the flight, and the only wine tasted with food, which made it all the more approachable already.