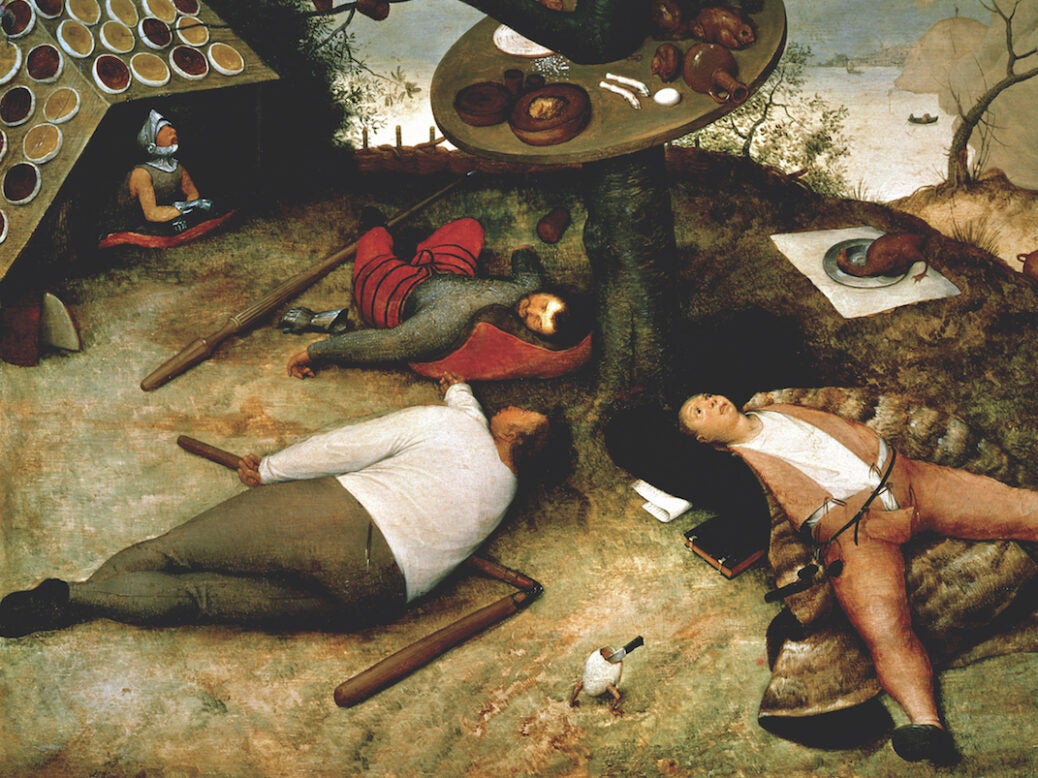 A feast for the eyes and mind, if not the stomach
There can be few more obvious intersections of the once isolated disciplines of food and popular culture than the Carl's Jr company's Most American Thickburger. In the 2015 TV ad, its potently nationalist credentials were emphasized through its advocacy by the model Samantha Hoopes, who, clad in a Stars and Stripes bikini, clutches a specimen of it while recumbent in a hot tub on a flatbed truck being driven by a bull-rider aboard an aircraft carrier in the shadow of the Statue of Liberty! No human mouth can negotiate the awesome dimensions of the Thickburger at a single bite, but Ms Hoopes makes a heroic effort. Between the two halves of a white bun, a cargo of Black Angus beef, molten cheese, a split hot dog, a stack of potato chips, sliced tomato, lettuce, pickles, ketchup, and mustard are loaded. It constitutes nearly half of the recommended maximum daily calorie intake for men, before you have even started on the fries.
What distinguishes a product like the Thickburger as an emblematic contemporary phenomenon, even more than its precious freight of patriotic signifiers, is its symbolization of limitless plenty, the latter-day Land of Cockaigne into which the western world dreamed itself in the postwar era. Following the intensification of production through the emergency years of the Depression and World War II, agriculture became agribusiness. There was an insistence, famously expressed by no less a moral authority than Henry Kissinger, at the 1974 World Food Conference in Rome, that "no child should go to bed hungry" and that everybody who pulled their burgeoning weight in the effort of reconstruction should be free to share in the irenic dream of untroubled affluence.
Since then, considerations of what people in the advanced economies ought to be eating, how they should be buying and producing it, how much of it is too much, and how much of it they are justified in throwing away have become more important than the simple fact of abundance. Where the politics of food once concerned themselves with trading relations and malnourishment in the developing world, they now extend to dietetic and broader cultural concerns in the first world, where obesity, diabetes, dietary cancers, and coronary heart disease are in full spate. And it turns out that the problems are all connected in exactly the inextricable ways appropriate to a globalized food economy.
Bloomsbury's indispensable collection of essays on the multifarious facets of the present malaise clears a lot of ground, on much of which future edifices of constructive investigation might be built. Its four sections, comprised of 23 contributions in all, cover representations of food in the mass media, the material cultures of eating on display in restaurants, street food, retail outlets and home cooking, the aesthetics of food in contemporary culinary movements and in food-themed artistic events and installations, and an array of sociopolitical considerations, embracing topics such as food science, nutrition, ethical eating, gendered eating, and food waste.
If trying to get your mouth around a gigantoburger is the sort of activity best undertaken alone, there are other ways of dining solo. Another is to tune in to one of the many YouTube channels that stream videos of a Korean person eating dinner, so that you have a virtual table companion while you sit in your kitchen with your own bowl of instant noodles. In many examples of the mukbang ("broadcast eating") genre, the presenter is filmed preparing the food before sitting down to eat it, in a creative departure from the expert cookery demonstrations of TV chefs. A February 2018 video by Keemi shows the host making and consuming fried chicken and spicy ramyun noodles, while sitting at a table in what looks like her bedroom, complete with shelf units and a bed festooned with fairy lights.
Mukbang represents some kind of pushback against the seamless automation of much of modern consumption. A recent Russian patent application for a drive-thru supermarket offers shoppers the chance to stock up on groceries without ever getting out of the car. A scrolling device helps you browse through rotating, vertically loaded shelves, transferring items to a conveyor belt that leads to a cashier sitting at a scanner. There is surely no reason for the cashier when so many retailers have moved on to self-scanning technology, but then there is surely no need even to get into the car in the first place when shopping is increasingly being done online, where instant product reviews by other users can be scrutinized and offers are targeted at individual users in accordance with their established buying patterns.
Not everybody is as happy to be surveilled online as the giant retailers would like. An essay here by Rebecca Wells and Martin Caraher looks at the malign effects on public health of advertising and promotion in new media and wonders how the latest generation can be taught a healthy suspicion of marketing messages. Their contribution, oddly enough, makes no mention of ad-blocking, still the most effective means of resisting sponsored content, but they do suggest that public-health campaigns might do worse than to harness the same techniques that are currently used for commercial purposes, employing what they call "the power of 'nudge' to bring about positive health changes."
To a more sensitive awareness
The problem raised by the relentless focus on nutrition, as is outlined in essays by Jessica Mudry and Leda Cooks, is that it divorces food from its cultural contexts and its emotional valences, so that, as Mudry postulates, nutritional concerns are the popular culture of food, leaving elites with the luxury of focusing on food as food. Where people are adjured to forgo their ruinous diets of sugar, salt, and saturated fats, it is inevitably to focus instead on some notion of authenticity and an often invented tradition, although as Elisa Ascione points out, the paradox involved in this is that the typicality invoked and celebrated in traditional food systems— the quintessential pesto, the textbook pot au feu—acts as just as much of a standardizing influence as the present globalized diet has done.
There has never been any shortage of self-appointed experts advising the poor how to eat. Sylvester Graham invented a plain cracker in the early 19th century to help the young override the carnal temptation to which meat and spicy foods were urging them. Horace Fletcher, the "Great Masticator," advocated chewing everything a hundred times to extract the maximum nutrient value from it, until eventually the lack of bulk meant one would only need to evacuate one's bowels about once every other week. Dr Robert Atkins threw out the crackers, advocating dedicated consumption of fats and protein in order to help shed the carbohydrate tonnage that weighed like a tractor tire around the modern midriff. When all is said and done, though, the belly wants what it wants, regardless of whether it trashes the heart in the process.
Perhaps the wholesale aestheticization of food will help. In a fine essay on the materiality of slaughterhouses and the cultural politics of their location, Paulette Singley reports the architect CJ Lim's proposal for a Wagyu beef establishment, in which the pampered cow would live, prior to its transformation into menu item, in a plushly designed apartment above the restaurant. Radiant from its session in the massage parlor, it would emerge to greet its visitors in a reception room, blissfully unaware of its fate as it is fondly petted by its eventual consumers. It makes choosing a live lobster from a tank look positively antediluvian.
Yael Raviv addresses the permanently vexed question of whether food can be considered art by invoking some of the usual suspects—Grant Achatz, Ferran Adrià, Heston Blumenthal—but stops short, as is customary, at the formal level. Too much of this rests on a wad of unexamined assumptions. Nobody advocating for molecular gastronomy as a scientifically devised art form seems prepared to critique the movement's individual dishes for their aesthetic worth, only to frame the whole style as artistic in itself. And quite what a $385 tasting menu has to do with popular culture, other than providing ample ground for satire, remains unexplained.
On the whole, though, this is a timely and constructive volume that is minutely attuned to the political, cultural, and ideological nuances with which the whole field of food studies is now properly infused. If we are to acquire a sensitive awareness of the issues that mass consumption comports in a troubled world, we will need more than electronic voices emerging from the fridge to remind us that we need to consume those items inside it that are nearing their use-by dates, and then go shopping again. We will need to be conscious that appeals to tradition are as much about filtering, and thereby producing, the past as they are about respecting it. And we may well need to stop eating anything we can't physically get our mouths around.
Published by Bloomsbury Academic; $136 / £100