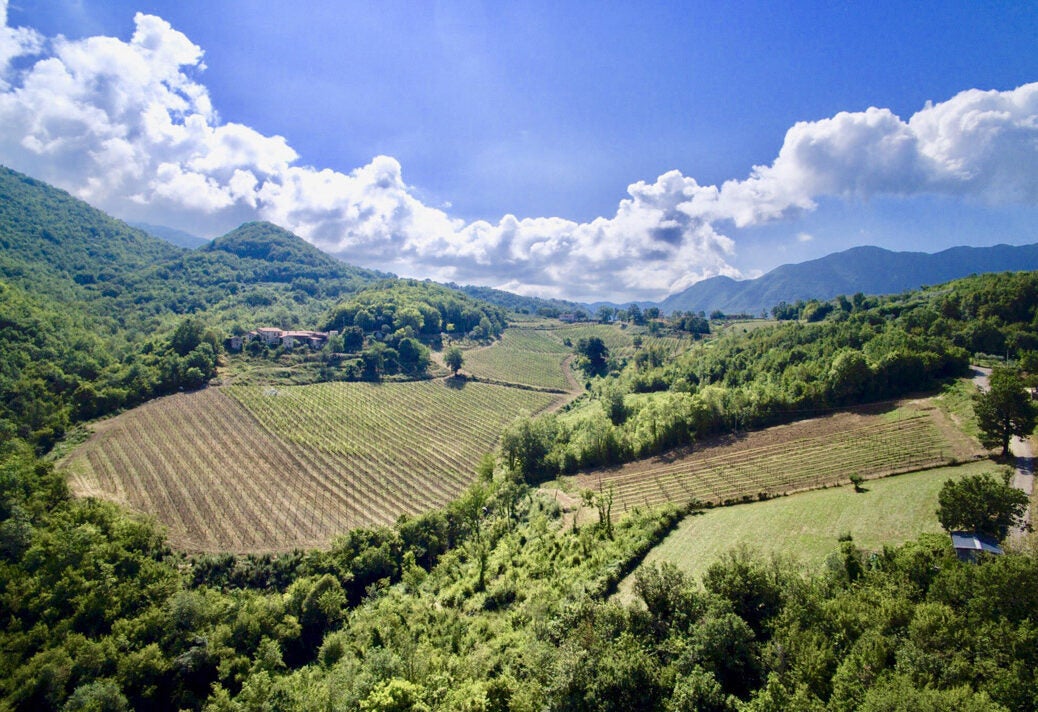 When Alberto Antonini first visited Picinisco to assess the viability of a new vineyard, owner Cesidio Di Ciacca anticipated a scientific analysis of his soil. "Let's go for a walk," was Alberto's first suggestion as consultant wine grower.
This was abandoned land, situated in the Val di Comino of Lazio, once used for grape production hundreds of years ago, but since then grown over with a forest, home to the local wild boar. Finally, Alberto picked up a handful of soil, rubbed it in his hands and said, "That's fine."
"We cleared the land, put in drainage, and started planting." Cesidio shares a mere morsel of a larger, long-term, family project. Besides cultivating the land, planting it with the long-forgotten local variety, Maturano, and working with organic principles under Alberto's tutelage, Cesidio has been on a mission not only to revive his family's 500-year-old hamlet but to transform it into a gastronomical academy, if not a cultural center for the region.
Cesidio describes the concept for I Ciacca as albergo diffuso—which literally translates as "scattered hotel"—but refers to the way in which his involvement in the town of Picinisco can be experienced throughout the local area. I Ciacca is a winery, as well as a cooking school, and a meeting place to learn about the ancient traditions of the region. It's also linked to his boutique hotel Sotto le Stelle, a former bishop's palace once built into the walls of Picinisco, now renovated into a collection of suites overlooking the remarkable Val di Comino. This was itself nicknamed a borgo diffuso, a town dispersed around the great valley, home to about a dozen settlements each with its own character and history. One of the most beautiful of the medieval hilltop towns was first documented in March 1017, when the Princes of Capua restored the Abbey of Montecassino in the Contea di Comino, the area that is now called Picinisco.
A history buff and a retired corporate lawyer, Cesidio is a third-generation Italian-Scot passionately restoring the property his grandparents left nearly 100 years ago to escape poverty, setting up an ice-cream parlour in Scotland. Cesidio's daughter, Sofia, who until recently worked as an accountant in London, has officially joined him on this restoration project, with the support of her mother, Selina, and brother, Giovanni. The family of four is involved in all aspects of the business, from harvest meetings, to hospitality.
Visiting in early September, we flew into Naples and drove an hour and a half northeast. One might wistfully note the road signs pointing back toward dazzling destinations like Sorrento and Amalfi as the terrain gets hillier and dense with forest. Entry into Picinisco requires a confident driver to navigate the narrow turns. This tiny ancient town is anything but sleepy, dusty, or crumbling. On the contrary, the collective effort of Cesidio's family and other affluent descendants of Italians who emigrated to Scotland is felt at every turn. For a tiny mountain-top town there is a lively selection of gourmet destinations developing, from an artisanal gelateria, to an award-winning pizzeria. Even non-descendants recognize the potential of this "forgotten" region. English chef Ben Hirst, who operated a Michelin-star restaurant in Rome, has taken over Villa Inglese, a Belle-Epoque villa in Picinisco by the entrance of the National Park of Abruzzo, Molise, and Lazio­, refurbishing it into a gourmet restaurant with luxury accommodation. Over a private dinner he prepared at I Ciacca, Ben explained that the appeal was to move out of the city and closer to the ingredients, working directly with the farmers, shepherds, and growers in the Val di Comino who will shape his daily menu.
Wine is just one piece of this puzzle, but an important part of the region's identity and I Ciacca's offering. It's still early days. The vines were planted as recently as 2013, though Cesidio is committed to producing the highest quality he can from his 11 acres (4.5ha) of Maturano. Perhaps too often, too modestly, he concedes his lack of wine knowledge, and appeals to Alberto's opinions on their progress. Alberto admits he was intrigued by the project from the start, and particularly by what Maturano could deliver. "Here I was very impressed by the soil. There was plenty of limestone giving the wine a lot of energy, vitality, and aging potential. The climate here is ideal; the warm days and cold nights retain the acidity and aromatics of the grape. The biodiversity around these vineyards is very important. Here you find vineyards, forests, and olive trees growing together. When you have a complex environment, you have a better balance between the grapes, the insects, and the whole ecosystem works much better."
In September 2017, I Ciacca conducted an ampelographic survey of its vines, which resulted in a few curious findings. Maturano is a white grape variety native to Frosinone. It was registered in the National Register of Grape Vine Varieties in 2009. It's also referred to as Matrana di Passo, Foglia Rotona (Round Leaf), and Motulano. It is not, however, the same as Maturana Blanca, a minor grape variety from Rioja.
The bunch is medium-sized, conical, winged, and compact, with late-ripening, elliptical berries. Interestingly, two biotypes of Maturano were identified in the vineyard, both genetically identical but displaying differences in the berry size, compactness, cluster shape, and skin thickness. The vineyard team acknowledged them as male and female twins and continued with a parentage study. There are more than 3,000 grape varieties in the National Register's database, but no parentage results could be found on the White Maturano grape. This supported the hypothesis that Maturano was endemic to the Comino Valley. The reason why the parents couldn't be traced might be that both are extinct or are in the area but on a sporadic basis, never examined in a genetic study and thus absent from the database.
The same year as the ampelographic study was I Ciacca's first grape harvest. We tasted the resulting three wines, all produced from Maturano. Neither oak nor stainless steel is used at the winery, as per Alberto's philosophy. The first wine, Nostalgia 2017, is fermented in concrete and spends time on lees. It is the most floral, fresh, and light in body. It could almost be mistaken for a Mâcon-Villages, but for the bitter-almond finish. At the other end of the spectrum is the top wine, Sotto le Stelle 2017. This wine is made from the best grapes. The skins and stems are macerated in the must for three days; the result is a golden-hued, ripe, and powerful wine, with plenty of texture, and lifted with a refreshing, savory streak of minerality. In the middle is the Matrimonio 2017, a true marriage of 50% Nostalgia juice and 50% of the skin-contact juice used for Sotto le Stelle. The result is harmonious and energetic. It is aromatic with ripe peach and lychee notes, and the palate is well balanced with a fresh, dry, and savory sensation.
Picinisco celebrated its first millennium in 2017. And if the renaissance continues as it has done in recent years, there will most certainly be a golden age to look forward to.