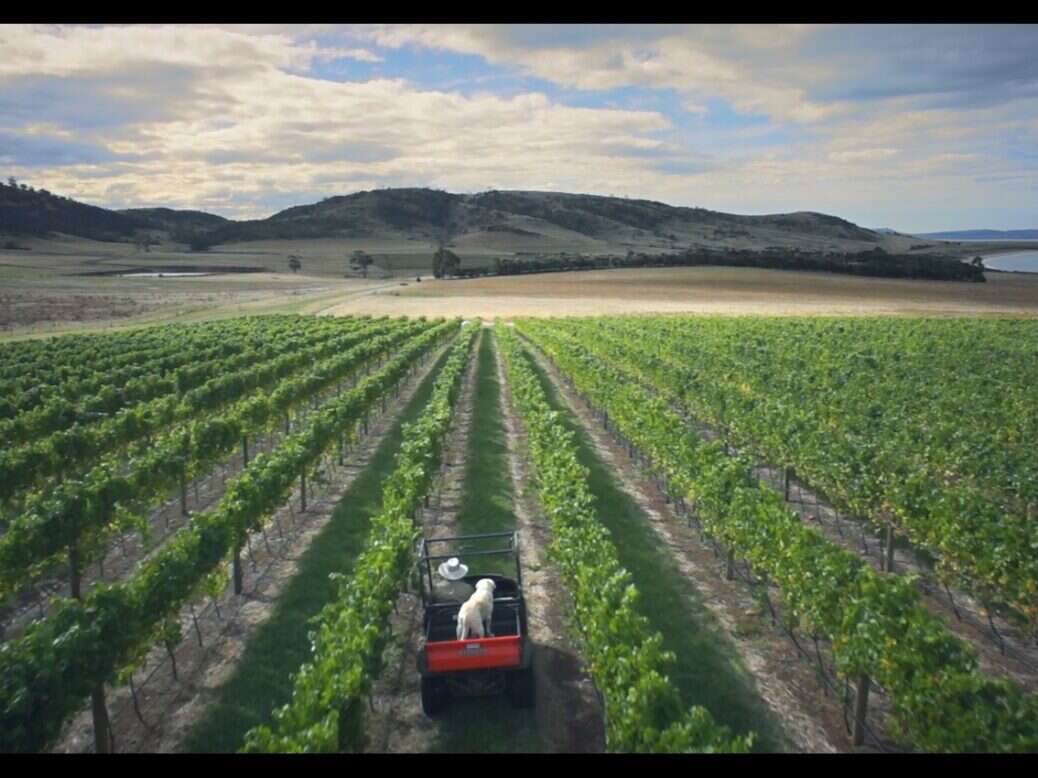 In 1988, Ed Carr embarked on a journey to craft an exceptional Australian sparkling wine to equal the world's best.
Less than a decade later, the House of Arras was founded. "Arras" means "rich tapestry" and rather than establish his winery on the mainland, Ed turned to the up-and-coming, cool climate island of Tasmania. Today the House of Arras is Australia's most awarded sparkling wine brand, with over 96 trophies and more than 42 gold medals to date.
Ed Carr—A Quietly Spoken Genius
Born on the Isle of Wight, Ed moved to Australia in the 1960s. He studied chemistry and microbiology at school which was, unknowingly then, his ticket into the wine world. Starting at a winery lab in the McLaren Vale via a ferment problem that needed solving, Ed then learnt the ropes of sparkling wine production from his mentor, winemaker Norm Walker, and later via Penfolds and Hardys.
By the early 1980s, Ed had become convinced of the beauty of the cool climate regions known for their sparkling wine credentials and he has never looked back.
Ed has been described by wine writer James Halliday as a "quietly spoken genius." His name, says James, should be known around the world. "He is," he adds, "by some considerable distance, Australia's greatest sparkling winemaker."
Today, Ed is known for his trailblazing winemaking heart and soul; for being the most decorated sparkling winemaker in the Southern Hemisphere, winning countless awards every year, and receiving the Lifetime Achievement Award at the 2018 Champagne and Sparkling Wine World Championships—the only non-Champenois to win it.
The Temptation of Tasmania
For 25 years now, Ed has only sourced his fruit from Tasmania, always believing it to be the ultimate cool climate place to source grapes for his benchmark sparkling wines. Its climate is significantly cooler than the mainland, with long summer daylight and maritime influences, which are ideal conditions for long, slow and consistent fruit development.
Vineyards from six regions are selected specifically to support each of the wine styles—this is the "arras" of vineyard selection which provides Ed with the different flavors, aromas, and colors he needs to blend his wines.
The 2021 Release
Ed says that this year's collection is "at the perfect balance point" of development.
"I'm particularly excited to release the 2013 vintage wines that showcase the incredible vineyards contributing to the House of Arras Grand Vintage 2013 and House of Arras Blanc de Blancs 2013," he says. "These sparkling wines are true classics in their styles and, while they showcase a fantastic balance at release, they will continue to mature gracefully."
Headlining this year's release is the House of Arras EJ Carr Late Disgorged 2006, which has spent fourteen years on the lees. "This is at the perfect balance of flavour and elegance," says Ed. "A complex style expressing great sophistication and poise expected of the noble sparkling grape varieties grown in pristine cool-climate vineyards."
Also in the collection is the House of Arras Brut Elite Cuvée No. 1601, now in its tenth release.
Early preview tastings of these wines have already garnered top scores and ratings from around the world:
Arras E.J. Carr Late Disgorged 2006
97 points, 2021 Decanter World Wine Awards
97 points, The Real Review
House of Arras Grand Vintage 2013
95 points, The Real Review
94 points, Anne Krebiehl MW at Falstaff International
House of Arras Blanc de Blancs 2013
94 points, The Real Review
House of Arras Brut Elite 1601
92 points, Anne Krebiehl MW at Falstaff International
House of Arras is part of the Accolade Wines Global Vintage Release Programme. Now in its second year, this is a collection of wines that showcase the very best of Australian terroir and winemaking.