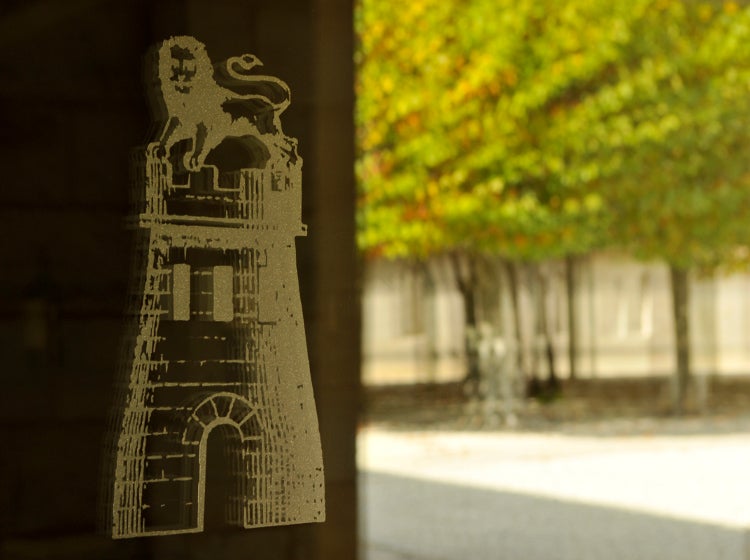 The first quarter of 2013 was auspicious for the fine-wine market. December's tentative price rises continued more vigorously into the New Year. Despite freezing temperatures around Europe-the first budburst in Bordeaux was in April-Bordeaux prices continued to thaw, and green shoots emerged definitively. The Liv-ex 100 rose by 7.3 percent and the Liv-ex 50 (Bordeaux first growths) by almost as much (fig.1, below). Other regions held their ground as Bordeaux picked up, with Champagne adding 6 percent, and Domaine de la Romanée-Conti (DRC) and Super-Tuscans just under 2 percent each.
Place de la Bourse, Bordeaux. Photography © Francisco Javier Gil / Shutterstock
Nonetheless, Bordeaux prices are still a long way off their peak in June 2011-the Liv-ex 50 by a whopping 27.6 percent. Bordeaux's challengers in the form of Burgundy, Italy, and Champagne have all proved their worth since the 2011 correction, with gains of 10 percent or more. Burgundy's share of trade on the Liv-ex platform reached a record 14.5 percent in January and remained well above average into March, with Italy and Champagne also registering increased demand. Subsequently, Bordeaux's portion fell to its lowest level in four years, at under 80 percent in January.
Primeur facie
January saw the Liv-ex 100 rise by 2.8 percent. Any fears that this was driven purely by Chinese New Year were allayed by even stronger growth in February. In March, prices softened across the board, though every Liv-ex index remained comfortably up so far this year. The Fine Wine Fund's April report said this was confined to "the latter stages of the month as attention inevitably turned to the annual pilgrimage to Bordeaux for the primeur tastings." The fund posted a 5.6 percent gain for the quarter, in line with its Bordeauxonly holdings. The report emphasized the importance of low 2012 release prices in order for the en primeur campaign to "reap the larger reward of properly re-engaging Bordeaux with its global market." Whether these early buds will flower as the year progresses will depend heavily on the success of the campaign.
If the prices are too high to entice traditional Bordeaux buyers back into the market, other regions may continue to benefit. Although DRC prices have gone the way of the Bordeaux first growths (skyward), other Burgundies and certainly some Italian wines-from both Tuscany and Piedmont-still represent clearer value to the consumer. From an investment perspective, Champagne and Tuscany have proved two of the least volatile regions over the past five years. While not engendering the astronomical peaks of Bordeaux and Burgundy, these regions have similarly avoided the subsequent troughs. Champagne has registered a steady compound annual growth rate of around 6 percent over five years, and 12.5 percent over nine years-the same as first-growth Bordeaux.
AUCTION OVERVIEW
The auction world has also reported renewed vigor in the fine-wine market. Marc Fischer of Swiss house Steinfels says "prices are clearly on the rise again." Salerooms have seen renewed interest in Bordeaux, with prices increasing in the first quarter of 2013 to return to the same levels as one year ago, and super-seconds outshining first growths (fig.3, right). Elsewhere, DRC and the Rhône flattened out, nonetheless outperforming the wider market over the past 12 months, while California lost steam altogether.
First-quarter auctions were down by precisely one third on the same period in 2012 and by almost half versus 2011, at $58.7 million globally. The biggest fall was seen in Asia, where wine-auction revenues were down 44 percent, with the European market also shrinking, by 39 percent. Sales in the USA were more solid, dropping by only 13 percent on the first quarter of 2012. This was due in part to very strong sell-through rates of 97.7 percent, as well as healthy average lot prices, down just 6 percent on 2012 at $2,940. Meanwhile, Asia's and Europe's percentage of lots sold hovered around the 90 percent mark, and average lot prices slipped by more than a third since the first quarter of 2012. While Asia's average lot price remained higher than that of the United States, Europe's was only half as much.
West but not least
As a result, the USA caught up with Asia for the first time since 2010, both regions representing 39.9 percent of the global wine-auction market from January to March (fig.4, facing page). In Asia, Hong Kong accounted for 99 percent of sales, with the other one percent derived from a small sale in Singapore run by Winefields in conjunction with local art auction house Borobudur on January 25. Bordeaux-especially first growths-remained the main focus, with red Burgundy gaining hugely in popularity. In general, bidders showed no interest in Port, little interest in New World wines, and lukewarm interest in Italy and the Rhône. Two buyers demonstrated wider curiosity by purchasing, besides Pomerols and white Burgundies, Sassicaia, Penfolds, and Jaboulet wines.
London's revenue for the quarter more than halved year on year, to only $6.8 million, though the capital remained easily Europe's breadwinner. In the USA, New York remained the auction center, bringing in $11.7 million, in line with the same quarter last year. Chicago was not far behind, thanks single-handedly to Hart Davis Hart, which helped it to be one of the only auction houses to increase its revenues year on year, along with Steinfels in Zurich and, by more than four times, Artcurial in Paris. Acker Merrall & Condit comfortably retained its number-one spot into the first three months of the year with revenues of $14.9 million, followed by Zachys and Christie's. The highest average price per lot was more than $5,000 at Christie's auctions, while the lowest was just $368, courtesy of J Straker, Chadwick & Sons in Wales, supporting its claim to be "Fine, Rare & Affordable."
Overall, at 92.3 percent, the global average sell-through rate increased fractionally on the first quarter of 2012 and by almost 2 percent compared to 2012 as whole, boding positively for the auction market in 2013. The average number of lots per sale also increased-by 5.7 percent- though the average lot was worth less than three quarters of its equivalent in the first quarter of 2012.
Bordeaux seemed to feature more strongly again in auction catalogs, as well as in the top tens, with half the top lots of the first quarter from the region. The other half were from Burgundy, with Jayer, Leflaive, and Rouget alongside the dominant DRC. Burgundy was the star of the show at Christie's March auction of wines from the collection of Henry Tang, one of Hong Kong's (if not the world's) most experienced and knowledgeable collectors. The average lot sold for more than $7,500, and the sale was 100 percent sold.
Artcurial's well-attended auction at Hôtel de Crillon in Paris, where the bidding was frantic and many of the lots sold for more than double their high estimate
Meanwhile in Europe, Artcurial held an exciting auction at the Crillon in Paris. In advance of the refurbishment, the hotel sold furniture, dinner services, and even its bar-for ¤324,800 ($430,000)-as well as a selection of fine wines from its cellar. In a salon looking out over the Place de la Concorde, well over 100 attendees battled those bidding online or via the telephone. Under looming chandeliers, with floor-to-ceiling marble all around, bidding was frantic, and a large proportion of lots sold for more than double their high estimate, particularly where red Bordeaux, red Burgundy, and even red Rhône were concerned. A single bottle of DRC 2004 La Tâche sold for ¤1,800 ($2,380), twice its high estimate. But then even the DRC Fine de Bourgogne 1979-in the spirits section at the tail end of the day-sold at ¤700 ($920), against an estimate of ¤200 ($260), so strong is the brand. Eight bottles of Château Rayas 2001 Châteauneuf-du-Pape sold at more than four times the high estimate, for ¤2,200 ($2,900). There were some better bargains to be had in the white Burgundy section, with several lots of Montrachet across various domaines selling below the low estimate.
PLACE DE BORDEAUX, PART 1
Château Latour has had to pull out of hosting June's biennial journalists' dinner during Vinexpo, Frédéric Engerer, Latour's president, tells me. The courtyard where this was due to take place has been dug up as part of a twoyear- long construction program for the new underground cellar. Last year's en primeur campaign saw Latour withdraw from the conventional system of selling wine as futures, instead selling back vintages from its cellars while sitting pretty on the new wines until they are deemed ready to drink. This means a large amount of storage space will be required. "Everything will be kept here underground, otherwise we would lose credibility," says Engerer.
When I met with him at the château in September 2012, Engerer was bored of explaining Latour's decision to withdraw from the age-old en primeur system and what it meant for the château's future. After all, as he rightfully said, "what company would be able to tell you its exact strategy for five, six, or seven years' time?" This was his best guess for when the next sale of wines from Château Latour would take place. By this time, he pointed out, the whole system for releasing Bordeaux wines could have changed.
The decision, announced one year ago, caused uproar in Bordeaux, threatening the status quo as it did. The bold move has brought into question the relevance of the en primeur system and perhaps even the centuries-old structure of the antiquated and opaque Bordeaux marketplace. I will attempt to untangle the myths and realities of the Place de Bordeaux, starting with en primeur in this issue, where I will examine the meaning of Latour's withdrawal and the passionate reactions ensuing. In the next issue, I will delve more deeply into the workings of the négociants and courtiers, and the value they really add, with insights from several key négociants including 130-year-old Maison Sichel, as well as newer player, 30-year-old Millésima.
Primeur primer
Wine producers were traditionally people of the land, or farmers-though that is sometimes a difficult image to reconcile with today's château owners in Bordeaux. Their expertise lay, and largely still lies, in tending the vines and making wine. Although wine has become a luxury good, wine producers, unlike handbag- or watchmakers, do not have dedicated sales teams or a distribution network of shops around the world from which to sell their goods. "We don't sell wines like Chanel sells perfume, in glossy shops," explains John Kolasa, managing director of Château Rauzan-Ségla and also of négociant business Ulysse Cazabonne, both owned by Chanel. The logic goes that the châteaux are thus reliant on the Place de Bordeaux, where they can sell their product wholesale to négociants. These sales often take place en primeur-that is, in the spring following the harvest, when the wine is still in barrel.
The négociant will not receive the wine until it is bottled up to two years later, though this does not prevent it selling on the "futures" contract. This arrangement allows the producer to receive income on his wine without having to wait until it is physically ready to sell, putting him in a financial position to be able to continue producing vintage after vintage, where otherwise a three-year wait might be enough to send a small, family-owned château into bankruptcy. In return for funding the cash flow of the producer, and for taking a risk on a product not yet fully formed, the négociant has traditionally benefited from a favorable price, significantly below what it would pay for the finished article.
The négociant then owns the wine and can sell it on immediately or wait until a later date. For bottled wine (négociants also purchase more mature vintages from the châteaux), this will mean storing it in a warehouse- traditionally on the quais of Bordeaux but now more often in large warehouses farther out of town-to sell in the years to come. Either way, the idea is of course to sell the wine at a profit, typically to the trade-on and off-both in France and internationally. So, for example, a négociant might sell wine on to a UK wine merchant, making a margin of around 15 percent in the process where en primeur is concerned.
Past and futures
When we met in September 2012, Engerer assured me that, despite withdrawing from en primeur, the château would still have recourse to the services of négociants when the time came to release the mature wine. This was borne out by the March release, which took place on the Place "100 percent," emphasizes Engerer. There are no plans to abandon the négociants-"unless they all boycott us!" he jokes, referring to a Decanter article about Millésima declining to buy library vintages from Latour.
Millésima's CEO Patrick Bernard was keen to clarify that his position was no "boycott." He told me Latour's decision is "their absolute right" but that "I didn't want my allocation as I'm too attached to the en primeur system to contribute to its death." And Bernard has good reason to be attached: Of 75,000 clients, "the best buy en primeur, and half of these buy only en primeur and only in the best years," he says. He asserts protectively that "the primeur system has existed since the first half of the 18th century, which means it's survived the French Revolution, phylloxera, the wars of 1870, 1914, and 1939, the 1929 crisis, the Glorious Thirty [Years], the Second Empire, the invention of the steam engine […], and in all these situations it has worked impeccably."
I am surprised to hear Bernard's seemingly nostalgic argument, given that Millésima is one of the least conventional négociants around, selling direct to private clients where others sell to the trade, himself changing the rules of the game. He explains that the issue is not history but economics: "The primeur system-and this is why it's so clever-allows the whole network to earn a living; allows the producer to earn his living, the négociant, the importer, the wholesaler, the retailer; and the consumer-who has his cellar and can make returns-to earn his living very well, too. If the property doesn't sell en primeur anymore, it breaks the system and keeps all the gains for itself, so it's breaking the economy. It goes much further than history; I couldn't care less about history. If you think about it, the Bordeaux economy is based upon this sharing of the margin."
Presumably when Millésima sells direct to private clients, this means that nobody in between the négociant and the consumer earns their living. And Bernard knows that when he first started selling abroad in the 1980s, the châteaux complained because they saw it "as competition to the other négociants' clients." They have no problems with the Bordeaux producers now-an example of change being accepted once initial tensions have settled. Will the same be true in the case of Château Latour?
The luxury of choice
With all these links in the chain, it's hard not to wonder what they all bring to the table to earn their cut. "The négociant adds value," confirms Engerer, but he seems to question just quite how much. "The cost of using a négociant to sell en primeur is 14-15 percent," he says, reiterating, "Whether the wine costs ¤20 or ¤300, they still take 15 percent," and questioning, "Does that make sense?" For Latour's release of the 1995 in March of this year, the average margin was more like 10 percent for those who bought and sold on immediately, though of course it's up to the négociants "if they want to store it and take 30 percent later."
So, does Latour's move threaten the survival of en primeur? If others were to follow suit, perhaps. The château is in the fortunate position of being owned by France's thirdrichest man, François Pinault, so has the financial power to build an enormous cellar and go seven years without selling a full vintage. If anyone else has the financial backing, business acumen, and nerve to change the way they do things, it is surely Château d'Yquem, with LVMH behind it. The property has already distanced itself from the primeur system by holding back its 2011, managing director Pierre Lurton saying, essentially, that the Sauternes would be dragged down by the less successful red-wine vintage. This was less of a bombshell given that Yquem is relatively new to the en primeur system anyway, having first used it in 2004. Lurton concedes the likelihood that Yquem will put back its release dates bit by bit in future, because "Yquem doesn't necessarily follow the rhythm of the primeurs."
Other potential candidates for deserting the Place, or at least en primeur, are said to be Margaux and Haut-Brion, though it is widely thought that the two remaining first growths, Mouton Rothschild and Lafite Rothschild, could not, and would not, abandon the system, because they have too many other wines in their stables to sell. "The Rothschilds are very wedded to the Bordeaux system," says Jean-Pascal Vazart, estate manager at Domaines Barons de Rothschild's Pomerol property Château L'Evangile.
Domino effect
Would the négociants be able to survive the majority of the other grands crus following suit? "It depends on the specialism of the négociant," says Charles Sichel, export director at Maison Sichel, allowing that "if they're reliant on grands crus and en primeur, then they'd be in trouble." He admits that it "would be a bit of a blow to us if there was no en primeur business, but it wouldn't put our business at risk." He's not worried, though, saying other châteaux have been watching to see what happens but that Latour's announcement that 100 percent of its production will be sold through the Place amounts to "backtracking" and "shows the might and power of the négociants' distribution system."
In any case, Sichel doesn't believe other châteaux will follow in Latour's footsteps, and he is "willing to put money on them being back en primeur next year." He is not the only one. Kolasa thinks it's "a big mistake," adding, "I don't know of any other châteaux considering doing what Latour did." Philippe Castéja, managing director of négociant Borie-Manoux, says dismissively, "The Latour phenomenon is a micro-case, a storm in a teacup." He admits, however, to having been "astonished" by the announcement. "They may find themselves caught," says Castéja, "without the visibility."
He believes that being "out of the system" is as good as being "out of the game." It is worth noting that for several years neither Borie-Manoux nor Millésima have had any allocation of the grand vin (as confirmed by the château), which renders any snub largely theoretical.
Engerer doesn't see Latour's withdrawal from en primeur as a threat to négociants: "They have the quality, the international distribution network, and the financial stability-most of them-to work with all the châteaux, both in the primeur system and with late bottle releases." He believes "the two systems can cohabit" and is surprised at the strength of feeling roused by Latour's decision, given that the château is merely altering the timing of the sales, not the channel. "Négociants have no problem when we sell old stock from our library, or at least they don't show it if they do."
It's not what you do…
Négociants have certainly shown that they do have a problem now that library stock will be the only stock, with several refusing to sell it at all. However, it is hard to find anybody- négociant or otherwise-who can come up with a bona fide reason as to why Latour shouldn't have taken such action.
Most of the consternation seems to result from the manner in which the decision was made and imposed. "They tried to change the rules of the game without consulting us, unilaterally," objects Bernard. Meanwhile, Sichel states, "It's not what they've done so much as the way they've done it," elucidating, "by despising the people who've worked toward [Château Latour's] visibility over hundreds of years." Latour insists that its plans have always been communicated clearly and consistently to the négociants. They invited the négociants to the château in small groups to taste back-vintages and to explain their decision. They asked them what price they would like to pay for the '95 Latour and allocated accordingly.
Some négociants seem perfectly unflustered by the move and happily took and sold their allocation of the 1995 Latour in March. Mathieu Chadronnier, MD of CVGB Grands Crus, seems unfazed. He says on the one hand, "I don't believe in the death of en primeur," clarifying, "For me, it's a system that has enormous advantages, that is incredibly efficient, that is of course not perfect, but there's no better system." On the other hand, he says that where he perhaps differs from other négociants is in how he views his métier, which is "to sell and distribute great wines." This does not necessarily have to take place en primeur; that is simply one mode of achieving the end goal. He takes the example of a journalist who wanted only to write on paper. "Your job is to write," he says, no matter the medium. While he finds it "hard to imagine that many other châteaux would do the same thing," he says that if en primeur did disappear tomorrow, it would not change his job. Bernard is less sanguine: "If all the properties did the same thing," he asks, poignantly, "where would we go from there?"
"What Latour is doing is totally logical," accepts Oliver Hartley, sales director of UK wine merchant Corney & Barrow. "If I were them, I'd probably do the same thing but in a somewhat more straightforward manner," he says, adding, "I'd probably have done it a long time ago." C&B, like some négociants, has its own reasons for feeling put out by Latour's decision-namely that it had been offered ex-château stock at above-market prices as a quid pro quo to get larger allocations of Latour en primeur; and now, not only will it have no wine en primeur, but Latour has also released the same library vintages at lower prices. Nonetheless, as a merchant that itself circumvents some of the conventions of the Place, acting as direct UK agent for Pétrus and other Moueix wines such as Trotanoy and Latour à Pomerol, Hartley can see the business sense behind the decision. C&B has also experienced the cold shoulder from the négociants,
often being penalized with small or no allocations of wines they do not buy direct. Hartley justifies C&B's arrangements by saying that it must do what is best for its customers. One could argue that is also what Latour is doing.
Game changing
Though supportive of the Place de Bordeaux in general- asking, "Why should they change something that's working relatively well?"-Engerer is quick to assert his dislike of "taboo." In other words, he resents the feeling that there is something "almost religious" about using a négociant, as though it would be heresy to circumvent the traditional channels. The vociferous condemnation of Latour's decision by some négociants seems to rest partly on a belief that withdrawing from en primeur is merely a first step to withdrawing from the Place altogether. Sichel told me that last year "Château Latour was beginning to go off on a whim and sell directly, to change things up." Bernard believes Latour has "flouted the rules" by selling to foreign companies in the past, even if it has subsequently promised to sell only to Bordeaux négociants.
Hartley says he wouldn't be surprised if in the not-toodistant future he walked into the Landmark shopping mall in Hong Kong to find pristine bottles of Latour, Domaine d'Eugénie, and Château Grillet in the Bottega Veneta shop (the three wineries and the luxury woven leather-goods brand all being owned by Pinault). Chadronnier is less skeptical, saying, "Latour is not bringing into question the négociant system, but the en primeur system," adding that he has no reason to doubt Engerer's assurances that Latour will continue to have recourse to négociants. "Frédéric said this very clearly, so I don't see why he'd change his mind tomorrow," says Chadronnier. "If he'd found a more rewarding solution working without the négociants, then he, perhaps more than anyone, would have acted on it."