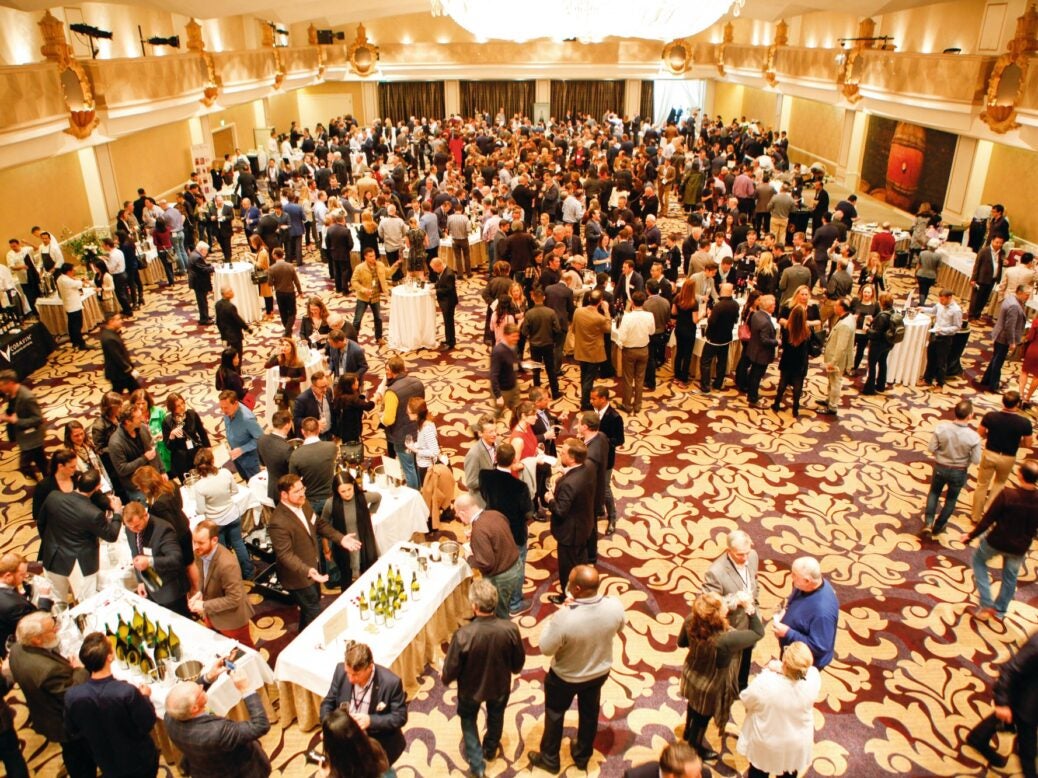 During the first week of March, rain engulfed San Francisco. Smothering the city's usual beaming brightness, laden gray clouds issued a constant torrent of water. It was a year of El Niño, that Pacific-born weather system whose presence or absence submits California to extremes of dry and wet. No resident was put off by the deluge, however, as it spelled relief from a frightful multi-year drought. Wine-loving San Franciscans were even more tolerant of the downpour, as they found themselves at the same time happily deluged by another, more valuable, fluid—Burgundy wine. Springtime of an even-numbered year means the coming of La Paulée, the epic Burgundy festival. Not only Pinot Noir and Chardonnay rained upon the city. Burgundian vignerons arrived in force to represent their wines. Sommeliers from all over the country turned up to pour them. And tasters, revelers, lovers of Burgundy materialized from all over the country to thirstily consume them. The event got off to a boisterous start with the "Off the Grid Tasting," as Daniel Johnnes (the event's founder and producer) has named an exhibition of zones outside the mainstream Côte d'Or: Chablis and the Yonne, the Côte Chalonnaise, Mâconnais, and Beaujolais, as well as Côte d'Or locales like the Hautes-Côtes de Nuits, Marsannay, Fixin, Chorey, Monthélie, Blagny, and so on. Held inside an urban winery in the SoMa district, the tasting was a walk-around format including bites supplied by local restaurants. Crowded from the beginning, the event was booked out and attended by an excited younger set eager to take first steps toward knowing Burgundy. The wines were delightfully quaffable in their own right, but a far cry from what was to come.
On the grid with De Montille
"Today, we are definitely on the grid!" exclaimed Johnnes at noon the next day, welcoming the crowd of paying lunch guests. Seated in the dining room of the restaurant 1760, they had turned up for "Lunch with Etienne de Montille: A Study in Domaine de Montille Vosne-Romanée Premier Cru Aux Malconsorts." As guests warmed up their palates with a fresh, vibrant pour of Château de Puligny-Montrachet St-Aubin Premier Cru En Remilly 2012, De Montille took the floor, saying: "I have never done such a tasting as this, and it would never happen anywhere but San Francisco, which is my home." Indeed, De Montille has a long-standing fondness for the Bay Area, because in his early 20s he lived in California, working first in Napa and then at Chez Panisse. A preliminary flight of Domaine de Montille Puligny-Montrachet Premier Cru Le Cailleret (1996, 2002, 2007, 20011) and Corton-Charlemagne (2010, 2011), all from magnum, would seem difficult to overshadow, but the Malconsorts were beautifully open and expansive. Each vintage (all from magnum) conveyed its personality accurately: 2010, 2009, 2007, 2006, 2005. What took the tasting into the stratosphere, however, is that these wines were juxtaposed with the domaine's Aux Malconsorts Cuvée Christiane (2011, 2009, 2008, 2006, and 2005), a comparison that De Montille said he'd never done. Christiane—named for Etienne's mother—is an odd shard of Malconsorts located "inside" La Tâche; that is, it protrudes from the rest of Malconsorts, occupying a (not terribly) small section of La Tâche's polygon. "It is the missing part of La Tâche," De Montille teased, before gently retreating. "I don't mean to dash your dreams; it is not La Tâche. But it is very good." Very good indeed, I would say. Harvested and vinified exactly like the rest of Malconsorts, it tastes virtually the same. Yet it's different—like the variance between looking at the same image on two screens of different resolutions, one normal and the other high-definition. The images are clearly identical, but the screen with more pixels, so fantastically dense with detail and nuance, compels the eye. Cuvée Christiane, glorious in detail and density, compelled the tongue.
Walk-around verticals
One of the most lively walk-around tastings of the Paulée was the Verticals, in which some 30 producers pour three vintages of their choosing to describe a general sense of their wines' evolution. The producers were diverse, from Chablis's Jean-Marc Brocard, down to Jean-Louis Dutraive of Domaine de la Grand'Cour in Fleurie, the first Beaujolais producer to participate (and whose wines garnered raves). In between those extremes was a parade of great producers from the Côte d'Or, including Domaine Matrot, Benjamin Leroux, Nicolas Rossignol, Domaine Fourrier, Domaine Hubert Lamy, Domaine des Comtes Lafon, and others too numerous to name here.
As I waited in line for the tasting, I struck up a conversation with the man behind me. We chatted about wines and vintages until at last we reached the entrance. Curiously straight-faced, his parting words to me were, "Just remember, you can never have too much Burgundy." I cheerfully nodded and wandered into the hall. But then I paused, considering his utterance. Was he encouraging me, urging me on with a hedonistic cheer? Drink all you want, because you can never get enough of this stuff. Or was he issuing an urgent warning, a dire prophecy? Never consume too much Burgundy.
You will regret it. You will regret it! This odd exhortation captured a double edge of the Paulée. Its joy is manifest—the greatest wines in the world poured unceasingly to an audience of avowed obsessives. The danger of the Paulée—especially for those who have experienced the ebullient overabundance of the gala dinner— is that the sheer surfeit of rare and special Burgundy can induce feelings of impropriety or guilt, akin to what a conscientious person might feel in the act of frivolously consuming more than one's share of a precious natural resource. Yes, you might argue, the Paulée is not only about unbridled hedonism; education is a key component. But still, given all the incredible tastings, sloshy after-parties (every night at the Burgundy-themed restaurant RN74), and the sybaritic gala dinner—after which, left unfinished, are dozens if not hundreds of Burgundian gems, around any of which I would eagerly organize an entire dinner party—one must fight off pangs of conscience. This year, that was easier to do, thanks to Jean-Marc Roulot.
Roll Roulot and Mugnier
Aside from being one of the world's greatest winemakers, Roulot is a serious actor with more than 50 credits to his name in film and television (according to imdb.com). He's also a playwright, and on Friday evening of the event, he and fellow actor Gerard Chaillou performed Meursault Les Luchets 2011, the fifth iteration of a play Roulot first offered in 1994 (as Meursault Les Luchets 1991). Performed on a sparse stage with only two chairs, a table, and an accordionist (for periodic accompaniment), the play is a conversation between two characters: Largeau (Roulot's great-uncle, who introduced him to wine) and Monplaisir (a character named for Roulot's Meursault vineyard or perhaps an emanation thereof). The two open a bottle of the titular wine and proceed to have a wide-ranging, lively conversation about its every aspect, including its production, taste, pairings, the memories it conjures, the thoughts it inspires— "what is said and what is given through the words of wine," Roulot wrote in the program. "The perception," he continued, "that each one's glass of Meursault can be a source of better knowledge of self and others." At some point, a team of sommeliers emerged to distribute a glass of said wine to every audience member. We sipped it thoughtfully as the play ended with a soliloquy delivered by the wine itself, a moment both touching and comic. As we drove off from the small theater to the Rare Wine dinner (at which Roulot would also star), I was grateful for the theatrical diversion. It was high entertainment, to be sure, but more, it dramatized the real power of a wine beyond immediate pleasure. It spoke to wine's ability to connect people, to fix memories (often pleasant), to bind us to the land and the seasons. To be so poetically reminded of these things as the La Paulée turned toward its inevitably over-the-top denouement was a blessing.
The Rare Wine dinner, at the restaurant Jardinere, featured uncommon vintages of Domaines Roulot and Jacques-Frédéric Mugnier. It was called the Rare Wine dinner, but it might have been titled the Rare Winemaker Dinner, as it was graced with the presence of Frédéric Mugnier himself, who almost never participates in such events. In Burgundy, he's known as a sober, reticent figure, who cares for neither adulation nor pomp. So his attendance at the Paulée, an event saturated with both, was extraordinary. Also extraordinary was the way his wines showed that night. Roulot's wines—including 2002 Les Luchets and Perrières from magnum—performed impressively (he said, addressing, the crowd, "I don't know which is more stressful—doing a play or serving old vintages"), but Mugnier's were otherworldly. A trio of 2006s—Les Fuées, Les Amoureuses, and Musigny— dazzled, while the '98 Fuées and '93 Amoureuses sparkled with emerging complexity. The 1986 Musigny Vieilles Vignes was profound, even aweinspiring. Soft on the tongue yet with plenty of intensity and drive, it had a deeply resonant cherry heart surrounded by a divine constellation of spice and earth. I would have many great wines the following night, but none as perfect as the Mugnier.
Grand tasting and gala dinner
Saturday, the final day of La Paulée, is jam-packed, beginning at noon with the Grand Tasting and ending with the Gala Dinner. The former, a walk-around tasting, is ever one of the best of the year, since it focuses on current vintages of reds and whites from more than 30 of the Côte d'Or's top producers. This year, producers showed 2013 in both red and white, and the vintage exceeded expectations, which were cautious, given the conditions: a dreary, wet spring, a couple of hailstorms, two summer months of warm days (though cool nights), then a poor start to September, pushing the harvest dangerously late into the beginning of October. Nevertheless, the wines, though in low quantities, showed beautifully. Worried about painfully high acidity, many people have compared the wines to 1996, but that wasn't substantiated—2013s are racy, but not searing. I wondered if 2013 would yield wines like the difficult 2007 vintage, but Benjamin Leroux assured me that the current wines are much better and riper than the austere 2007s. I tasted thoroughly and quickly in order to find my way out before the crowds made the room unnavigable.
The strategy for not only surviving the Gala Dinner but being able to remember it the next day is to eat an entire dinner in advance. If you attended the Grand Tasting, you've already tasted a lot of wine and probably put very little food into your body (because the food there, supplied by local chefs, comes only in small, bitesize servings). It ends at 3pm, leaving you in an awkward moment between mealtimes. You're hungry, but it's well past lunchtime, and you don't want to spoil the decadent six-course meal awaiting you. My advice: Eat two dinners. To wit, I found myself at a table in a pizzeria just as it opened at 5pm with restaurateur/importer Robert Bohr and winemaker Jeremy Seysses of Domaine Dujac. Over a few pizzas, we downed a bottle of 1993 Volnay Caillerets from d'Angerville and dashed back out into the pouring rain to get to dinner. Thus fortified, we were ready to take on the ensuing cascade of wines.
The fortification was necessary, because despite the Gala meal (featuring a magnificent tourte de 5 viandes with truffes de Provence and sauce Périgueux, constructed by chef Daniel Boulud and Jean François Bruel), once the wine started flowing, it became near impossible to pause. The list of wines I tasted over the next six hours is long and includes such gems as 1989 Leflaive Bâtard-Montrachet, 2000 Coche-Dury Meursault, 1996 DRC La Tâche, 1988 DRC Richebourg (which, someone next to me commented, was "not as good as the 1976 I just had," then, aware of how he sounded, added, "That's the kind of shitty thing you say only at the Paulée!"), 1991 DRC Grands Echézeaux, 1990 Mugneret-Gibourg Echézeaux, and so on. You find yourself searching for an available glass with which to receive the next divine wine on offer. The challenge is not to empty your glass into your throat, though that's what ends up happening much of the time.
A sense of family and intimacy
Despite all this, the 2016 Paulée had more of a pleasant sense of intimacy, modesty, and camaraderie than I'd felt in other years. The Paulées in San Francisco tend to be a bit smaller and more modest than the ones in New York, which boasts more tycoons, more collectors, more people. "Many of the producers told me that they prefer the San Francisco Paulée to the New York," sommelier Mark Bright told me. "They said there's a sense of family and intimacy here that doesn't exist there." I felt that this dinner, which was not short on great wine, was not short on a sense of community and sharing either.
In her keynote address before the dinner, Véronique Drouhin said, "A lot of people drink our wines, but nowhere else do we find the passion and devotion of America […]. This does not exist anywhere else in the world outside of Burgundy." Indeed, I thought, she's right. But why? After all, the Paulée de Meursault, which inspired this event, is a rollicking fête for vignerons who have just been through the rigors of harvest. La Paulée in America appropriates that spirit for wealthy Burgundy consumers. But then it seemed that the two, while apparently odd bedfellows, were really made for each other. Burgundy: hidebound, often modest, yet friendly, ardent, generous, and appreciative of attention; America at its worst and best: brash, exclusive, showy, hyperbolic, overconsuming, yet also eager, devoted, passionate, ambitious, open, and intrepid. The attraction of Burgundy for certain Americans is very genuine, very soulful. The two complement each other, and it was a stroke of genius for Daniel Johnnes, a connoisseur of all things French, to bring them together in such an American way.