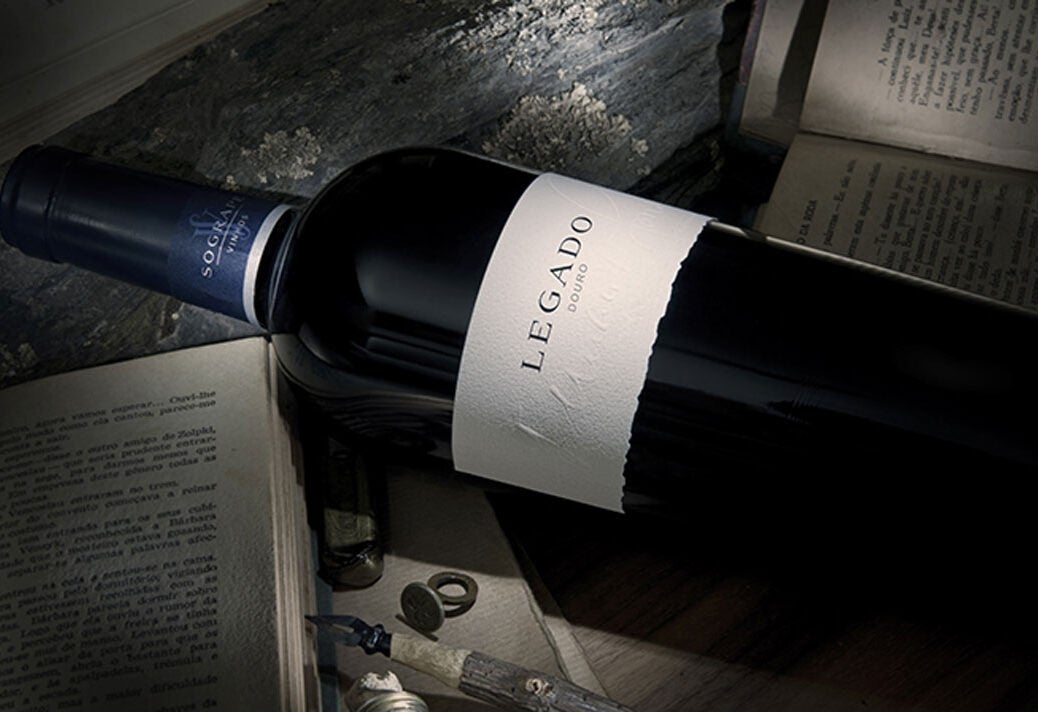 On October 23, 2019, in the private dining room of Dinner by Heston, the Legado story unfolded through a double act of Fernando da Cunha Guedes's anecdotes and winemaker, Luís Sottomayor's technical insights.
It was a most fitting setting for the debut, mirroring the wine's style: modern and elegant, yet mindful of tradition. Our sommelier revealed that the burgundy velvet on the chairs was the same used for the Queen's throne to celebrate her Jubilee. And the table round which we were gathered was a depiction of the legendary table of King Arthur's Knights of the Round Table, excavated from Westminster Palace. We guests were primed for a taste of something special.
"It's the first time we have ever shown this wine outside of Portugal," said Fernando introducing the six vintages of Legado 2009–2014 (the first, 2008, is only available in the library stock). The name, which means "legacy" is exactly that explains Fernando: "Legado was my father's homage to all he has learned from his father and wanted to leave for future generations."
Just 5,000 bottles are produced annually from a 7ha (17-acre) vineyard of 100-year-old vines located in the steep, terraced hills of Ervedosa do Douro. Touriga Franca and Touriga Nacional make up about 50 percent of the centenary vineyard's field blend, with the remainder including varieties such as Donzelinho, Tinta Roriz, Tinta Amarela, Tinta Barroca, Tinta da Barca, and Rufuete. All are farmed organically, though not certified.
"It is what we call a terroir wine. Basically, every year we just bottle what nature gives us. The only precaution we must take is to vinify at the right moment," says Fernando. Luis hastens to add, "But before that we practice precise viticulture. Each vine is treated like an individual human being."
The grapes are all handpicked over two or three passes through the vineyard and then crushed before a long, slow fermentation in small stainless-steel tanks, after which the wines are blended and aged for two years in new French oak barrels in Vila Nova de Gaia before bottling with no fining.
Since its conception in 2008, the Legado wines have been sold exclusively on allocation through Sogrape's own distribution arm in the US called Evaton, and by Liberty Wines in the UK.
Legado 2009
(15% ABV)
Compared with the average over the past 30 years, 2009 was characterized by a marked decrease in rainfall, especially in March and May, along with slightly higher temperatures. The vintage witnessed an extremely hot and dry summer, especially during August. This weather led to faster than average ripening, particularly in lower areas. Those vineyards with a southwesterly exposure started the vintage two weeks earlier than the previous year. In more sheltered and higher-altitude areas, wines of excellent color, very good aromatic intensity, and high-quality tannins were achieved.
Deep garnet hue, with intense, pure plum and black-cherry aromas. Elegant and powerful, with mouth-coating tannins that melt into the concentrated ripe fruit. Very long across the palate, with surprisingly refreshing acidity and a lingering perfume. A slight touch of smoky incense on the end.
Legado 2010
(14.5% ABV)
The 2010 vintage is remembered for its cold and rainy winter, in contrast to the three previous years. The rainfall combined with low temperatures caused a slight delay in the vine's vegetative cycle. Summer was extremely hot and dry causing a delay in the start of the vintage. As a result of these conditions 2010 was a long vintage, with early varieties picked right at the outset and the latest ones, such as Touriga Nacional and Touriga Franca, picked two weeks later.
Much leaner than the 2009, with more restrained aromas and flavors but equally powerful and long. Cashmere-soft tannins build on the palate, with a mouthwatering acidity. (Fellow taster, Steven Spurrier, remarked how reminiscent of Bordeaux the first pair of wines were, likening the 2009 to a Pomerol, and the 2010 to Cheval Blanc.)
Legado 2011
(14.5% ABV)
The winter of 2011 was quite rainy, replenishing much needed groundwater. During spring, although there was some rainfall, there were two spikes of heat, in April and May, and June was relatively dry with temperatures slightly below average. August's rain, followed by a hot, dry, September made for long, balanced ripening with high-quality grapes.
Sweet ripe plum, heady red flowers, tea smoke, and wild berries on the nose. Just as multifaceted on the palate, with luscious fruit concentration. There is a firm structure from the seamless tannins balanced by an energetic acidity. Vivacious and hedonistic.
Legado 2012
(14% ABV)
Characterized by a very cold and dry winter. An even dryer and warmer than average spring followed, with the exception of April which was particularly rainy. August and September were also distinctly dry and warm.
Elegant, powerful, and voluptuous palate. Slightly more savory flavors come through and for the first time in the flight, the oak feels more prominent. Still very fleshy with fine tannins. The alcohol is at 14% but feels warmer than the 15% in the 2009.
Legado 2013
(14% ABV)
A cold and rainy winter and spring caused a significant delay to the vegetative cycle and irregular flowering. Summer was hot and dry, although there were downpours at the end of September and the beginning of October. Harvest started on average 8-10 days late.
Perfumed and generous. Slightly more red fruit character with earthy and spice layers. Delicious, yet rather tight tannins feel particularly dryer on the finish.
Legado 2014
(14% ABV)
It was an atypical year: a remarkably hot January and an August that was far cooler than normal. The grapes ripened two weeks earlier than normal. The harvest began at the start of September, carrying on during the breaks in rains in what was an extremely wet month.
An exceptional flight ended on a high note: Beautiful combination of dark berries intertwined with dried herbal and floral notes. Powerful and robust, with supple and silky tannins. Luscious and ripe but not remotely jammy. Very expressive and long.
We raised this glass in honor of Fernando's father, who passed away last year, in recognition of his great work.
Following the focused Legado tasting we enjoyed a marvelous dinner with Heston's signature dishes thoughtfully paired with Sogrape's other wines from Casa Ferreirinha and Sandeman.
Aperitif: Casa Ferreirinha Vinha Grande Rosé 2018
Starter: Earl Grey Tea smoked salmon, with pickled lemon salad, gentleman's relish and sorrel. Paired with: Casa Ferreirinha Vinha Grande Branco 2018
Primo: Meat fruit, mandarin, chicken liver parfait & grilled bread. Paired with: Casa Ferreirinha, Tinta Francisca 2014
Main: Fillet of Hereford beef, mushroom ketchup and triple cooked chips. Paired with: Casa Ferreirinha Quinta da Leda 2016
Dessert: Selection of British cheeses. Paired with Sandeman 30-year-old Tawny and Quinta do Seixo 2017 Port