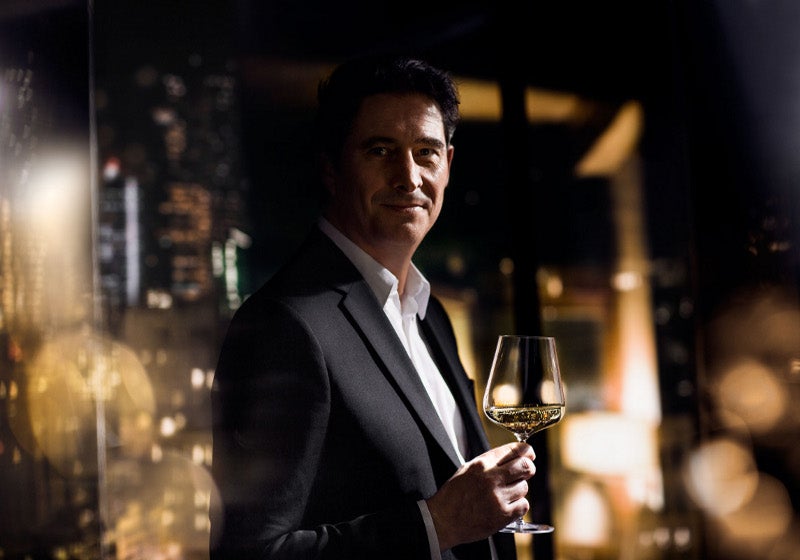 Alongside the vintage release, new glassware was exhibited which featured a flute shape with widened rim. "I need to fit my nose in the glass!" exclaimed Benoît. And on the current debate over whether regular wine glasses are better for Champagne, Benoît is not convinced. "Flutes are visual cues to order a glass of Champagne when you walk into a restaurant. Otherwise you walk in and see people drinking from wine glasses and don't think to order Champagne first." Georg Riedel originally designed the 'relaunched' glass shape over 60 years ago for Moët & Chandon, which now features a small gold star in the middle of the glass to guide pouring measures. "You can fill seven glasses up to the star from one bottle."
Returning to the main subject of the day, the 2009 release, Benoît first put it into context by revealing that Vintage represents only 10 percent of overall Champagne production, and just 5 percent at Moët & Chandon. "It's an exception, not the main point of Champagne—the Non-Vintage blend is the most important," he affirmed.
Calibrating our palates to Moët style, we started with the latest NV which comprises 50 percent from the 2014 vintage and 50 percent young reserve wines (2013 and 2012). Benoît explained he doesn't want too many oxidative notes and therefore avoids older reserves. The NV assemblage now involves only three recent vintages, and the older cuvées are used to add "a little spice" to them via the liquer d'expedition.
"Imperial has to be consistent, while Vintage is about being focused on the year," proceeded Benoît. "The 2008 is very classic. This a style of Vintage we have known in Champagne forever. Made by a cold climate; cold in the spring, cold in the summer, cold in the harvest. A long ripening season, but dry without rot, so a high level of acid." He thinks people made the claim too early on 2008. "It's too soon to assess the quality of the harvest during the harvest! You need to make the wines, taste the wines, and then assess the wines."
Skipping 2010 and 2011, the next Vintage at Moët & Chandon will be 2012.
Benoît confirmed that the decision not to declare a Vintage in between was taken in order to save the best wines for the Imperial reserves. "You need to make a choice economically. If there's not enough wine to do a Vintage and to build your reserves, then prioritize your NV, which is 95 percent of the production."
He rounded off the tasting with a decadent treat: 2002 and 1990 from the Grand Vintage Collection. These wines were held back from their original release and further aged on lees.
"The 2002 has 15 years on lees. This is a way to offer something consumers can't achieve just by keeping a first release in their cellars," Benoît explained. Certainly these wines offer more autolytic, brioche, mocha, and nutty character due to the maturation on lees, and at the same time the lees protect the wine from oxidation resulting in a complex yet utterly fresh experience.
THE WINES
Moët & Chandon Brut Imperial NV
(35-40% Pinot Noir, 30-40% Chardonnay, 25-30% Pinot Meunier; 12% ABV; dosage 9g/l; 2 years in cellar)
Open and generous aromas of freshly baked brioche and vibrant, youthful fruit. A fairly broad palate with voluptuous ripe flavor and balanced acidity.
Moët & Chandon Grand Vintage 2008 Blanc
(40% Chardonnay, 37% Pinot Noir, 23% Pinot Meunier; 12.5% ABV; dosage 5g/l)
Citrusy within a saline package. Linear, precise, and lean across the palate. Very refreshing and taut, promising to unwind slowly and reveal many layers over time.
Moët & Chandon Grand Vintage Blanc 2009
(50% Pinot Noir, 36% Chardonnay, 14% Pinot Meunier; 12.5% ABV; dosage 5g/l)
Ripe, exuberant fruit with a light touch of smoke. Broad and generous with a soft, silky texture and crisp finish. Gastronomical.
Moët & Chandon Grand Vintage Rosé 2009
(59% Pinot Noir [19% of which is red wine], 30% Chardonnay, 11% Pinot Meunier; 12.5% ABV; dosage 5g/l)
Fleshy red raspberry, spice, and biscuit on the nose. Slightly phenolic grip, soft acidity, and a full body. Complete and well rounded.
Moët & Chandon Grand Vintage Collection 2002
(51% Chardonnay, 26% Pinot Noir, 23% Pinot Meunier; 12.5% ABV; dosage 5.5g/l; disgorged 2017)
Intense and aromatic vetiver and toasted brioche. Positively energetic palate vibrating with excitingly complex layers building on the mid-palate and long, sensational finish.
Moët & Chandon Grand Vintage Collection 1990 (Magnum)
(50% Pinot Noir, 40% Chardonnay, 10% Pinot Meunier; 12.5% ABV; dosage 7.5g/l; disgorged 2004)
Lovely Italian panettone (brioche and fruit peel), with a roasty, toasty character.
Beautifully balanced between mature flavors and reductive tension with a haunting, lingering finish.