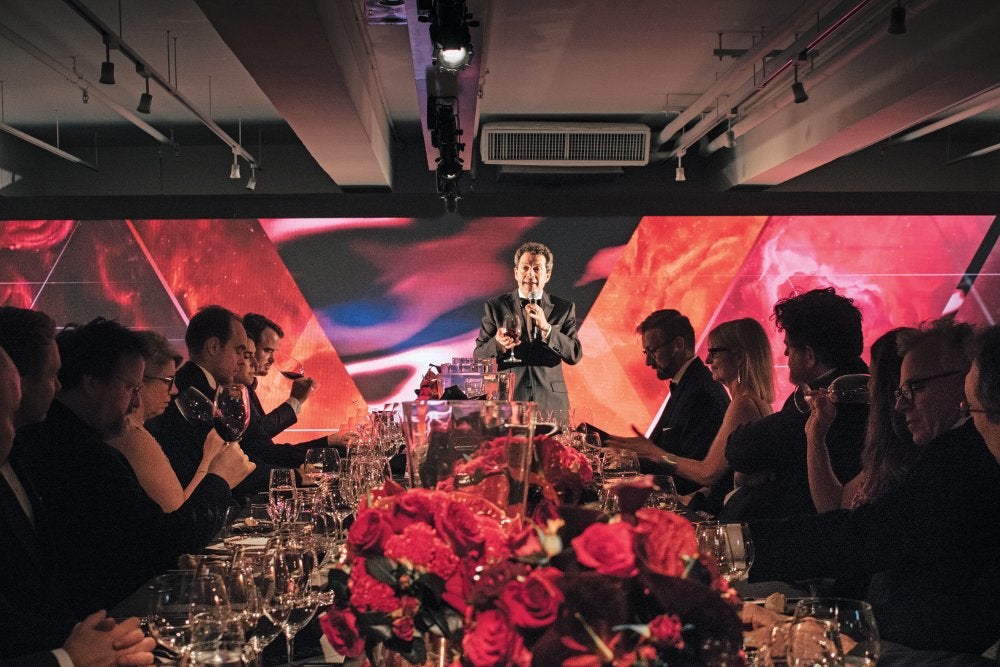 Ella Lister discovers a unique new expression of Grange and is won over by an extra dimension that transcends the temporal limits of any single vintage
Australia's most famous wine producer, Penfolds has been making its cult cuvée, Grange, since 1951. Each of its 66 vintages has been aged in 100 percent new oak, apart from 1957, 1958, and 1959, with an average blend of 98 percent Shiraz and 2 percent Cabernet Sauvignon. That is the exact ratio for the 2008 vintage, which is a formidable wine. A beast in ballet slippers, the 2008 Grange has extraordinary weight, concentration, and a richness lent by the exceptionally hot year (though picking had largely concluded before the worst of the heat). At the same time, it possesses a balance and poise that control its brute force to provide huge drinking pleasure.
The 2008 is the first of three vintages of Grange that have been carefully blended together to produce a unique new special-edition wine called g3. Inspired by Non-Vintage Champagne and solera systems, g3 is intended to represent "Penfolds house style distilled," according to Peter Gago, chief winemaker since 2002. The concept is not dissimilar to Spanish icon Vega-Sicilia's Único Reserva Especial, a blend of top vintages.
Only 1,200 bottles will be released, and "there will never be another g3," stated Gago. The 2008 was blended with 2012 and 2014—the proportions undisclosed—and the three vintages were aged together to form a wine that, upon tasting, is undoubtedly more than the sum of its parts. What may seem at first sight to be purely an exercise in adding commercial value has a more serious purpose. The Penfolds team has once again proved its exceptional blending skills, capturing in g3 the evolutionary essence of Grange in a new dimension, by distilling the diachronic quality of the vertical tasting experience into the moment of a single glass.
A fitting launch for g3
At a meticulously prepared preview dinner in Hong Kong on October 18, Penfolds unveiled this ingenious creation to the world. A gathering of global media and local KOLs ("key opinion leaders," for those of us not up to date with all the latest marketing acronyms) convened at the Liang Yi museum to discover the wine amid seas of red flowers ("I've never seen so many all at once," marveled Gago), dramatic computer-generated video clips, and a red-velvet-clad dancer throwing elegant shadows against the walls.
After the 2008, we were served the 2012, an altogether more austere and linear wine. 2012 was a cooler year, producing a wine with elegance, restraint, and pure black and blue fruit. Still somewhat closed, the 2012 was deftly accompanied by a subtle quail dish, cooked by the Magill Estate Restaurant head chef Scott Huggins, still only 30, but whose pedigree includes Melbourne's Ezard and Tokyo's three- Michelin-starred Nihonryori Ryugin. This coquettish pairing was in contrast to the previous course, where the spicy, exuberant 2008 perfectly offset the peppery venison.
The final component of the g3 triptych is Grange 2014, not due for release until October 2018, and thus not served. Although this piece of the puzzle was missing, we know that the 2014 is likely to be more similar to the 2012 in style, coming from a cooler vintage than 2008. If the combined result is anything to go by, the 2014 will possess exceptional grace and poise.
The g3 has the presence and power of the 2008 and the restraint of the 2012 but, above all, boasts a uniquely smooth, refined, and integrated character best summed up in one word: finesse. It has a creamy, satin texture and complex layers of fresh and dried fruit, with bramble— stalks, thorns, and all. Beyond the fruit is a leathery, meaty, saline savoriness, and the whole package feels supremely integrated. I had not come close to configuring this unique wine in the palate of my imagination after tasting two of the contributing elements; I doubt I could have fared better had I separately tasted the third. Served with divine Wagyu beef and, bravely, with stillcrunchy, notoriously hard-to-pair asparagus, this was without a doubt the pinnacle of the dinner (98).
I must admit, I had been skeptical beforehand. This seemed like one big, albeit splendidly executed, marketing exercise. By the end, I had to agree with Gago that g3 was "not a gimmick." It won me over with its elegance and, crucially, its unique extra dimension that transcends the temporal limits of any single vintage, however grand. It is rare, it is expensive (A$3,000 per bottle), and there won't be anything exactly like it ever again. The adventure may not end with g3, however. When pressed, Gago wouldn't rule out the possibility of a g4 or a g5 in future.
Express interest at www.penfolds.com